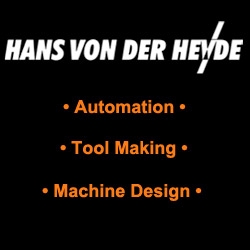 Cape Town, South Africa, May 22, 2013 --(
PR.com
)-- Precision engineering company, HvdH-SA, has designed a range of affordable mechanical and laser cutting, printing and coiling machines based on the sophisticated 'modularity in design' approach.
The efficient, affordable and lightweight industrial machines are independently crafted to drive multiple functionalities and can be easily configured for integration into diverse production streams.
"Apart from generating custom designed engineering solutions, we market a range of state-of-the art industrial machines and auxiliary equipment featuring our functional modular design to enable both standalone and production stream integration," affirmed a company spokesperson recently.
The compact modules can be customised with a variety of purpose designed extensions to enable new capabilities and have been conceived to address constantly changing production demands that include shorter product life cycles and increased competition.
Design for manufacture has gained traction as a means of reducing production costs and lead times. Additional benefits include improvements in speed, quality and performance.
Flexible and quick to change over,
HvdH industrial machines
also enable easy diagnosis of a problem or production line bottleneck as the issue can be isolated to a specific module or machine instead of the entire line.
The range currently comprises:
• A selection of mechanical cutting machines that can be easily modified for diverse cutting, shearing, stamping and punching applications of textiles, plastics, steel and other solid materials.
• A choice of four latest technology laser cutting machines that deliver precise, flawless and high speed cuts.
• A versatile product portfolio of high speed coil winding machines capable of coiling, uncoiling, rewinding, latching and storing linear materials of diverse dimensions.
• A small but sophisticated range of laser printing machines capable of providing clean high quality permanent labelling and engraving.
• A comprehensive range of auxiliary extrusion equipment designed to manage downstream extrusion requirements such as multifunctional carts, automated packaging assistants, packing tables and automated haul-offs to pull off profiles at the extrusion line.
HvdH-SA is the Cape Town division of the highly acclaimed German precision engineering company founded in 1953. It provides turn-key and customised industrial engineering automation solutions, tool making and machine design for both contract and original equipment manufacturers in the plastic production industry.
To learn more about the company and its products and services visit
www.hvdh-sa.co.za