Ghana Ministry of Health Receives Mobile Clinics for Specialist Patient Outreach Services
Cheyenne, WY, May 25, 2013 --(
PR.com
)-- Odulair LLC, the world's leading provider of advanced mobile health clinics and mobile medical vehicles today announced that the Company has completed the first delivery of 18 Specialist Outreach medical vehicles to the Ministry of Health, Republic of Ghana in Africa, as part of the Odulair Mobile Clinics for Africa Program initiated in 2012. The 18 medical vehicles include eight Mobile Clinics and 10 biometric medical vans. The eight Mobile Health Clinics included Mobile Dental Clinics, Mobile Ophthalmology Clinics, Mobile ENT Clinics / Mobile Audiology Clinics and Mobile General Medicine Clinics.
As part of the Mobile Clinics for Africa Program, Odulair worked directly with local businesses and agencies in Ghana to identify the specific needs and requirements for mobile clinics in the country. This included collaborating with Accra-based Mechanical Lloyd Company Ltd. to define the Ford Motor Company chassis best suited for the local roads and the local high-sulfur diesel fuel. "Working with local businesses not only allows Odulair to provide the much needed mobile clinics, but it also stimulates the local economy because we purchase many of the clinic components from local in-country companies," explained Dr. Anita Chambers, President of Odulair, LLC. For this delivery, Odulair purchased the Ford chassis and much of the medical equipment installed within the mobile clinics from businesses in Ghana, Kenya, and South Africa. "Purchasing from local dealers is not only our way of giving back to the local community for acknowledging our mobile clinics as first-class mobile healthcare delivery facilities, but it also allows Odulair to better serve our customers by administering local maintenance and service without requiring the clinic recipients to ship equipment back to the U.S. or Europe for maintenance."
The Odulair Mobile Clinics were commissioned April 26, 2013 at the Parliament State House with over 200 politicians, diplomats, local and national dignitaries, Queen Mothers and medical professionals attending the ceremony. Ghana's First Lady, Lordina Mahama said that the intention behind incorporating the fully equipped mobile clinics into Ghana's healthcare delivery system was to elevate and advance the capabilities of the existing outreach program. She indicated that Odulair Mobile Health Clinics would take healthcare delivery onto the doorsteps of the people, especially those in the remotest areas of the country. Mrs. Mahama proclaimed, "What we become as a nation was dependent upon our capacity to do this." First Lady Mahama continued, "To protect communities from diseases no effort should be spared in training, deploying and resourcing health care staff who look after the welfare of patients. Access to rural healthcare services encompasses several elements, including property acquisition and management, staffing, housing, adequate technology and numerous and other variables and overhead costs." The First Lady commended the manufacturer Odulair, LLC and the supplier Belstar Development Corporation, both of the U.S.A. for the detailed planning and modeling of the specialist equipment, for the mobile clinics even coming complete with their own power.
The Minister of Health, Ms. Sherry Ayittey continued, "Each component posses its own unique challenges and issues and it is when taking all aspects of the problem into account that the benefit of implementing mobile health care technology becomes evident." The Minister of Health, Ms. Sherry Ayittey, communicated her satisfaction that the package included, in addition to the mobile clinics, fully equipped biometric medical maintenance vans. These medical vans will be utilized for the maintenance of medical facilities and equipment throughout the country to make sure that they are always in a state of readiness for use by clinicians. All healthcare vehicles and workshop vans came with a worries-free five-year warranty. Ms. Ayittey also expressed her appreciation to the U.S. government, the Overseas Private Investment Corporation (OPIC) and the Deutsche Bank of New York for the splendid outcome of their partnership with the government for the benefit of Ghanaians.
Appiah Denktira, Director General of the Ghana Health Service and recipient of the mobile clinics reported, "We have over 200 districts, and ten percent of the districts are without hospitals and they are also deprived. We also have ten regions, but not all of the regions have specialist services." The mobile clinics provided by Odulair will be used to deliver these specialist services throughout the country.
Deputy Chief of Mission of the U.S. Embassy to Ghana, Ms. Pat Alsup, declared the United States government's commitment to complement Ghana's effort at improving healthcare delivery and commended the two U.S. companies for their contribution to health services in the country. Ms. Alsup asserted that Odulair is the world's leading manufacturer of specialist outreach mobile clinics and medical vehicles for social purposes where the design incorporates the social function needing to be accomplished.
Mr. Charles Mensah, General Manager of Belstar Development Corporation the company that selected Odulair to provide these important mobile clinics, pointed out how mobile clinics are the most effective choice for treating people regardless of how far away they might be.
"Americans and Ghanaians can accomplish a lot in any area of interaction if they bring their well-developed talents to the table," announced Gene A. Cretz, U.S. Ambassador to Ghana. Ambassador Cretz observed that the lessons that come as a result of raw, honest exchanged of talent are "inspirational moments" to be treasured, and he expressed the hope that the same spirit could be applied to diplomacy, educational exchanges, and the conduct of business between the U.S. and Ghana on a daily basis. "We see it when American businesses like Belstar Development Corporation and Odulair, LLC specially equip mobile health clinics to try to improve access to basic care for thousands of Ghanaians, based on identified needs," Cretz proclaimed.
About Odulair
Odulair, LLC is a Wyoming company founded by a medical professional in 2008 to assist governments, NGOs, and private medical providers with advanced technology mobile clinics for the delivery of healthcare in over 40 medical specialties. Odulair Mobile Clinics range from highly mobile 4x4 based clinics from 30 – 40 feet in length to triple expandable oversized semi-trailers providing Mobile Dialysis Clinics, Mobile Surgery Units, Mobile Trauma Units, Mobile Urgent Care Units, and more.
Odulair mobile medical units are built to serve patient populations as independent operating vehicles or vehicles incorporated within an existing facility. Our units have been used for hospital and surgery center renovation, capacity correction, emergency response, healthcare services within correctional facilities, humanitarian healthcare delivery, community outreach, rural healthcare, and more.
All Odulair products meet United States DOT requirements for standard transportation over U.S. roads and can also be transported via military aircraft such as the C-5A or C-17.
About the Odulair Mobile Clinics for Africa Program
Odulair founder and Fielding Graduate University Institute for Social Innovation Fellow Dr. Anita Chambers initiated the Mobile Clinics for Africa Program in 2012 in an effort to provide high quality, country specific custom mobile clinics to emerging nations at an affordable cost. To date, Odulair has designed mobile clinics to deliver healthcare for more than 40 medical specialties housed in platforms ranging from 30-foot (9 meter) highly mobile 4x4 truck-based clinics to 60-foot (18 meter) double expandable trailers. The Mobile Clinics for Africa Program creates collaboration between local African businesses and Odulair as the local businesses provide components for incorporation into the mobile clinics, which are then utilized to deliver healthcare within the country. This unique model of collaboration for the development of medical vehicles was developed by Dr. Chambers in an effort to stimulate both the economy of the recipient African country as well as small businesses in the United States.
Additional information is available at www.odulair.com
Media Contact:
Anaísa Pié
Odulair, LLC
+1 307-459-1350
apie@odulair.com
Contact
Odulair, LLC
Anaisa Pie
+1 307-459-1350
www.odulair.com

Contact
Multimedia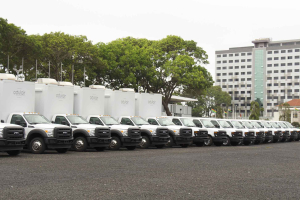 Odulair, LLC Mobile Clinics for Africa Program first delivery to Ghana, West Africa