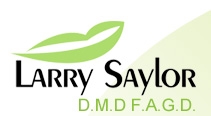 Tampa, FL, May 29, 2013 --(
PR.com
)-- Larry Saylor II, DMD, FAGD, an experienced cosmetic dentist dedicated to improving smiles in the Tampa Bay area and beyond, has leveraged his years of experience in cosmetic dentistry to deliver less-invasive porcelain veneers.
His technique, which focuses on preserving the tooth's enamel and utilizing minimum or no prep veneers, allows patients to experience the benefits of porcelain veneers without the invasive prep work common with traditional veneer preparations.
"The success of your veneers is directly related to the amount of enamel that you preserve, and how much enamel you have has everything to do with how you prepare the tooth," said Saylor. "For cosmetic dentists this really comes down to how often you are performing these procedures and how well you visualize the case."
Saylor, who has been preparing porcelain veneers since 1999, currently addresses two to three cases per week. In addition, he is highly trained on the use of DURAthin veneers, the minimum or no prep alternative to traditional veneer preparations. Unlike traditional veneers, DURAthin veneers are custom-made to adhere directly to the front of teeth by bonding to 100% enamel. Therefore, you get great esthetics with long term predictable results.
"DURAthin veneers are truly an artisan product," said Dr. Saylor, "They have taken the art of prep-less veneers and made it an even more elegant and sophisticated solution that delivers a truly remarkable result for the patient. The minimal prep work also allows us to enhance the patient's smile with minimal or no change to their natural teeth, thus eliminating a big fear that many people have with porcelain veneers."
About Dr. Larry Saylor
Dr. Larry Saylor II, DMD FAGD, of Brandon, Fla. is an experienced cosmetic dentist dedicated to improving smiles in the Tampa Bay area and beyond. With years of experience in general and cosmetic dentistry, Dr. Saylor has the skills and expertise necessary to help patients achieve a natural, beautiful smile with minimal office visits. Services include sedation dentistry, pain-free dentistry, tooth whitening, implants, Invisalign and dental veneers, such as DURAthin and Empress. A trusted name in cosmetic dentistry, Dr. Saylor was voted the "Top Dentist" in the March/April Issue of Tampa Bay Magazine and is a Time Magazine award winner. For more information, visit
www.doctorsaylor.com
.