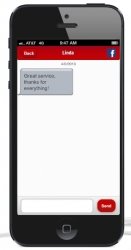 Leesburg, VA, May 30, 2013 --(
PR.com
)--
CriticMania
, the new customer-service platform that brings together businesses and their clientele, announced this week the recent launch of their new iPhone application, allowing managers to instantly answer customer feedback from the convenience of their smartphones—at anytime, from anywhere.
CriticMania.com founder Hulya Aksu described the app in this way, "We know the importance of instant acknowledgement, and you can't always be at your desk. Now we bring the power of texting to help you become a 'customer company.'" The application's features include the following: Managers and business owners are instantly notified when a customer sends feedback about their experience and can reply within seconds, the ability to easily share stellar reviews on social media sites, and the option to flag important messages and notifications or archive messages for simple, clean organization.
The new app adds to CriticMania's existing repertoire of helping businesses excel at customer satisfaction by documenting what customers are saying about their experiences and making sure every customer leaves happy and feeling heard. CriticMania is a communication platform that easily allows customers to send feedback directly to businesses. The feedback is anonymous and private, and managers can send prompt, personalized responses right from their dashboard. Similar to a digital comment card with immediate feedback, this tool helps companies intercept negative online reviews before they even happen, improving customer relationships from the moment they're being formed.
More than 200 businesses are already using CriticMania to interact with customers, and users have been impressed by the volume of critical and positive feedback they've received once they introduced this convenient, digital feedback option to their clientele. "Extracting positive customer testimonials has been a very difficult task for us. CriticMania has enabled us to use real-time customer testimonials instantly, and we are able to share these messages on our social media outlets," raves one user, Golden Horn Property Management Company, based in Alexandria, VA.
CriticMania aids businesses in developing open, ongoing conversations with their customers to ensure they're providing the best service possible and meeting a range of needs. Through the dashboard at www.CriticMania.com or the new iPhone app, managers can immediately resolve issues, protect their reputation, fortify their customer base, collect feedback, and improve their services, all while emphasizing each customer's value.
Contact: Kirsten Clodfelter
KClodfelter@gmail.com
(703) 629-9814
22000 Aol Way
Dulles, VA 22
Related Links: www.CriticMania.com