Taylor Morrison's New Community at Eastmark Debuts June 1
Arizona Homebuilder to Unveil New Home Designs Created for New East Valley Community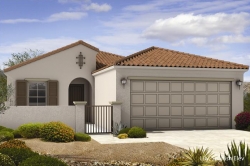 Mesa, AZ, May 30, 2013 --(
PR.com
)-- With new floor plans created especially for the Eastmark community and plenty of new Phoenix homes available for purchase, Arizona homebuilder Taylor Morrison debuts at Eastmark on June 1.
Considered to be the future heart and hub of the East Valley, Eastmark is being touted for its forward-thinking design and master plan creativity. That makes Eastmark the perfect fit for Taylor Morrison home buyers, according to Bob Thompson, vice president of sales and marketing for Taylor Morrison.
"We're debuting floor plans that very much fit the mission of Eastmark," Thompson said. "Homebuyers will see homes at Eastmark that they won't be able to find anywhere else. And the level of build quality and craftsmanship will be evident immediately."
Taylor Morrison will model two homes at Eastmark: the approximately 1,739 square-foot Lily, which features four bedrooms and two baths on a single level and the two-story Jasmine, which offers four bedrooms, 2.5 baths and a three-car garage in a floor plan that measures approximately 2,985 square feet.
Taylor Morrison is introducing a total of three new two-story floor plans as well as well-established single-level homes that homebuyers continue to request from the builder. In all, the homes will range from approximately 1,573 square feet to 2,985 and will be priced in the low $200,000s. The feedback of east Valley residents was included in the development of the new floor plans, Thompson said.
"We recognize that home buyers want us to keep our homes state of the art and we're answering that challenge," he said.
In keeping with that mission, the Taylor Morrison homes at Eastmark will include much more than designer upgrades. They will also provide a level of cutting edge sophistication that homebuyers have come to expect from Taylor Morrison.
New homes at Eastmark will include Taylor Morrison's Elem3nts™ program, which aims to make homes smarter users of energy through more efficiencies. For tech savvy homebuyers, Taylor Morrison offers The Interactive Home™, which elevates the art of living by enhancing entertainment, convenience and security, all with the touch of a button.
Amenities are also a big key to Eastmark and one of the most impressive is the Eastmark Great Park which sits adjacent to Taylor Morrison's neighborhood. Considered the spine of the community, the Eastmark Great Park will be a mile-and-a-half long and will span 106 acres at completion. It is modeled after many of the nation's most desirable urban parks. The Great Park and adjacent Palm Plaza includes an interactive water play area for children of all ages, a lawn for concerts and movies, a riparian stream, an area for family events and events such as farmers' markets and arts festivals.
"And all of this will be within walking distance of our Taylor Morrison neighborhood," Thompson said. "We can't wait for June 1 to arrive."
For more information about Taylor Morrison and its communities, please visit www.taylormorrison.com.
About Taylor Morrison
Headquartered in Scottsdale, Arizona, the Company operates in the U.S. under the Taylor Morrison and Darling Homes brands and in Canada under the Monarch brand. Taylor Morrison is a land developer and builder of single-family detached and attached homes serving a wide array of customers from first-time buyers and move-up families to luxury and active adult customers. Taylor Morrison divisions operate in Arizona, California, Colorado, Florida and Texas. Darling Homes serves move-up families and luxury homebuyers in Texas. Monarch, Canada's oldest homebuilder builds homes for first-time buyers and move-up families in Toronto and Ottawa as well as high rise condominiums in Toronto.
About DMB
DMB is a privately owned, Arizona-based, diversified real estate investment and development firm with real estate holdings through affiliated companies. DMB's portfolio includes primary residential and resort communities, signature commercial and mixed-use developments, and high quality country clubs, health clubs and spas. DMB is known for its commitment to building lasting communities that enrich quality of life today and in the future. Every DMB community is distinguishable due to the Company's core dedication to community life, partnership, legacy and stewardship. www.DMBInc.com.
Contact
Taylor Morrison
Al Stevens
480-648-1770
www.taylormorrison.com

Contact