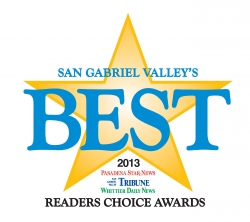 Pasadena, CA, June 01, 2013 --(
PR.com
)--
Linden Optometry PC
is pleased to announce that Dr. Alan Limfat, O.D. was named "Best Optometrist in the San Gabriel Valley" in the Pasadena Star News "Readers Choice Awards - 2013." Voting took place throughout the month of March, and the results were published at the end of May by the San Gabriel Valley News Group. Votes were tallied from ballots which ran both in the newspapers and online. Dr. Limfat is one of a select group of health-care professionals who were named to the list.
"I am deeply honored and humbled to have been selected Best Optometrist, and I would like to express my sincere appreciation to all of my patients for your votes of confidence," commented Dr Limfat. "I want all of you to know that I don't take this award lightly, and I'm gratified to know that you are so happy with the vision care you've received here. I'm working right now to make your visit to Linden Optometry an even better experience in the future. We are in the planning stages for major improvements and upgrades to our eyeglass showroom, our in-house eyeglass lab, and our 18 exam rooms, and I hope that when the work is completed, we will exceed your expectations."
Dr Limfat joined the Linden Optometry PC group in 1991. He has overseen the evolution of Linden Optometry from an eyeglass and contact lens practice to a multi-disciplinary clinic which now provides services for ocular disease detection and treatment (including Glaucoma), treatment of eye infections, dry eyes, and eye allergies, orthokeratology (also known as corneal reshaping), laser vision correction co-management, low vision devices for the visually impaired, and specialty contact lenses for some of the most challenging cases.
Dr. Limfat received his Doctorate in Optometry Degree from UC - Berkeley, and his Bachelor's Degree in Biochemistry (Cum Laude) from University of Rochester. He completed internships at the VA Hospital, San Francisco, Travis Air Force Base Hospital, and UC Berkeley Vision Clinic.
Dr. Limfat received his Treatment and Management of Ocular Disease Certification from the International Association of Boards of Examiners in Optometry. He received his Ocular Therapeutics certification from U.C. Berkeley School of Optometry 1996.
In 2001 Dr. Limfat received his certification for Treatment and Management of Glaucoma for Southern California College of Optometry.
He received a Recognition Award for Dedication to Outstanding Patient Satisfaction, Innovation and Adoption of New Contact Lens Technology from Ciba Vision in 2002.
In 2004, Dr Limfat received a Recognition Award for his commitment to Exceptional Patient Care and Dedication to Clinical Excellence in Refractive Surgery, from TLC Laser Eye Centers.
Dr. Limfat's areas of practice include: Primary Care Optometry, Ocular Disease management, Glaucoma detection and management, Specialty Contact Lenses for keratoconus and astigmatism, and Multifocal contact lenses for presbyopia. Dr. Limfat is fluent in both French and English.
Outside the office, Dr Limfat enjoys spending time with his wife and three children. He keeps himself fit playing tennis during the week-ends and enjoys reading good novels. His favorite get away place is Mauritius, a small island in the Indian Ocean. Other hobbies include soccer, culinary arts and travelling.