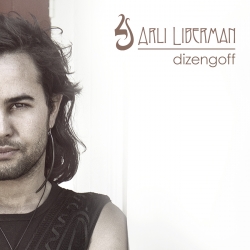 Auckland, New Zealand, June 03, 2013 --(
PR.com
)-- Feted Israeli rock guitarist and composer Arli Liberman will release his vibrant debut single "Dizengoff" for purchase and immediate download on 30 June through iTunes and the artist's website. This breakthrough will be celebrated on 29 June by an electrifying performance at the Thirsty Dog Tavern and Café, 469 Karangahape Road in Newton, Auckland with supporting act the Verandahs and the award-winning dance troupe Phoenix Belly Dance. Doors will open at 20:00. The Verandahs will play at 21:00 and Phoenix Belly Dance will perform at 22:45. Liberman will present music in two sets, the first at 22:00 and the second at 23:05. He will be supported by his talented backing band, comprised of high-caliber local musicians from diverse cultural backgrounds: Mardo El-Noor (Jordan) on keyboards; Stephen Thomas (New Zealand) on drums; Yair Katz (Israel) on percussion; Karika Turua (Rarotonga) bass.
"Dizengoff" was inspired by the many sights and sounds of the lively, bustling Dizengoff Street in Tel Aviv as well as the intense conversation between Eastern and Western music. The song also presents a vivid snapshot of Liberman's experiences in Israel. Award-winning musician and music editor Mark Smulian – the originator of the prestigious WhiteFlag Project that united prodigies within the Israeli and Palestinian youth music scene – contributed lyrics.
Liberman discovered the luscious possibilities of melody and harmony through childhood experimentation with synth sounds and eventually began to use the guitar as a way to channel the rich, endless notes flowing through him. Over the years, he has refined his skills and cultivating his artistic voice while uncovering fresh accents and textures on his instrument that help tell his personal story. His colorful personality, sense of humor and commitment to regularly reinventing the boundaries of the guitar have attracted the attention of world-class musicians. During the last decade, Liberman has collaborated with many musicians on global stages and in the studio in revolutionary creative adventures, as a guitarist producer, composer, arranger and editor for renowned artists and albums in a variety of countries.
Now, he generates fearless, ambient solo work that celebrates the wide spectrum of the world's vibrant melodies, harmonies and rhythms. Through multi-genre-bending performances, he builds energetic, expansive soundscapes that convey his most powerful memories and honor the inventive players that have deeply influenced him, including Jimmy Page, Brian Eno, David Gilmour and Michael Brook. His finely-honed guitar and composition techniques, infinite imagination in the studio and effortless instinct for his instrument surge through his meticulously-layered, dynamic recordings. Liberman's intricate original songs are inspired by rock, blues, jazz and funk styles and incorporate Middle Eastern guitar tones and unconventional instruments. His experimental approach to his work illustrates his passion for exploring the on-going evolution of human civilizations from every angle and affecting real change through music.
For more information about Arli Liberman, his music and upcoming performances, visit
www.arliliberman.com
. "Dizengoff" will be available on iTunes or through the official Arli Liberman website on 30 June, 2013.