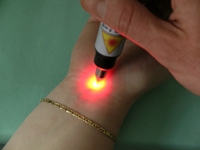 Springdale, AR, June 06, 2013 --(
PR.com
)-- Pain is a sensation most humans fear and want to avoid.
According to the Institute of Medicine, there are 100 million Americans that suffer from some sort of chronic pain. This is almost one third of the country's population. Our usual medical care usually doesn't address the causes of pain and relieves it only partially and incompletely. Medications and injections usually have a myriad of side effects and consequences.
Acupuncture has been showing promise to treat different kinds of conditions including headaches, back pain, neck pain, knee pain, and other conditions such as nausea, asthma, chronic lung disease, etc.
Paradoxically, pain related needling is feared by many people, especially children. This is one of the reasons why they avoid an acupuncture specialist.
At Springdale Health, in Springdale, Arkansas a physician is treating these issues with needle Free alternatives (on top of usual needle acupuncture care). These include laser and pellet acupuncture. Dr. Suarez is able to achieve pain free or nearly pain free status very quickly with such techniques.
The advantage of the treatment at Springdale Health is that Dr. Suarez is double Board Certified in Family Medicine and Medical Acupuncture. As a physician he is able to get a thorough diagnosis via Western Medicine and as a Medical Acupuncturist and Integrative Medicine practitioner he is also able to use Eastern Medicine or Alternative Medicine such as Supplements, Chinese herbs and Acupuncture in addition to any Western Medicine treatment he feels is appropriate for the optimal treatment of the patient.
Patients can find out more about Springdale Health by visiting the clinic at 601 W. Maple Ave Suite 511, calling 479-419-9955, or visiting www.springdalehealth.org or on facebook visiting Springdalehealth.