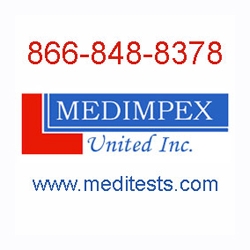 Bensalem, PA, June 11, 2013 --(
PR.com
)-- Medimpex United Inc. introduces the 3 Panel Oral Fluid Drug Screening Device as part of its high quality line under the OralScreen brand.
As the leading mass distributor of drug testing, alcohol testing, pregnancy testing products, and various other testing devices, Medimpex United Inc. continues to add to its already long list of quality testing products. This is in line with its goal to provide consumers with the most reliable products that are suitable to every testing need. With the greater demand to maintain a drug-free work area or community, there is a corresponding need to have the tools to detect drug-users in the earliest possible time for proper intervention.
Drug dependence of a member has caused much heartache in a family. It has also been responsible for decreased productivity in employees. Many accidents in the work area can be traced to employee's undetected drug use. This can be a high price to pay in terms of loss of life and property damage.
The Oral Screen brand of Medimpex is synonymous to high-quality products that guarantee reliable results for greater peace of mind. Its current main product, the 3 Panel Oral Fluid Drug Screening Device is essentially a saliva based drug testing kit. This 3-piece device provides a rapid test that only requires 10 minutes to administer.
The testing procedure is quite simple. The person being tested needs to add 3 drops of saliva to each piece of the device. It must be made sure however that the saliva donor has nothing in his mouth such as food, tobacco, drink, or gum. The presence of anything in the mouth will affect the results of the drug test.
This is a very convenient drug test both for the tester and the donor. Saliva collection does not cause any discomfort, pain, or inconvenience. It can be done under the supervision of the tester without causing embarrassment. The risk for
drug testing
adulterated saliva specimen is nil when the proper testing procedure is followed.
By simply swabbing the inside cheek and gums, saliva specimen is easily collected. The swab is inserted into the receptacle. This test is very useful for detecting drugs that have been ingested very recently. Its advantage over other tests such as blood and urine tests is that it does not require the appearance of the metabolites of the drug within several days which can be a long time to wait for someone who needs to know.
This oral multi-drug test is designed for people who are looking for more affordability with detection of the THC-COC-OPI. At a price of $ 5.85, reliable drug testing with fast results can easily be obtained. This test does not entail any special training for collection and facilitates drug testing at a lower cost.
What makes
saliva drug testing
more acceptable to most people is it less-invasive nature. Drawing blood as a specimen for drug testing is very invasive physically. Providing urine sample under the supervision of the tester is quite invasive as well in the privacy aspect. Allowing the tester to take saliva swab samples is admittedly the less invasive option among the three usual options.
It is by far the most popular option for random testing at the work area. Employees are less resistant to this kind of testing. Business owners on the other hand need not bother with the physical preparation for testing site since there is no need for any special physical arrangement.
Since there is not much preparation required, managers and supervisors can request for immediate testing of suspect drug users. There is no special training required to administer a saliva based
drug test
. The only requirement is unadulterated saliva specimen and a reliable drug testing device such as the 3 Panel Oral Fluid Drug Screening Device.
There are certain disadvantages in saliva-based drug test such as the limited time frame for detecting drug metabolites in the specimen. History of drug use also cannot be confirmed by this kind of test. Even with these disadvantages however, saliva-based drug testing device is still the choice to beat for immediate testing for drugs that are suspected to have been taken within the last 12 to 24 hours prior to testing.
Each drug testing device has been developed for a specific purpose. When each is used according to its specific purpose, then testers can be assured of reliable results. The credibility of the results holds the key to drug testing that is worth its cost.
Businesses know how costly drug testing is especially to those with thousands of employees. The cost however is justified by the expected increased productivity made possible by a drug-free environment and workforce. Drug testing can turn out to be a useless waste of important business resources when it is not able to produce reliable results.
Can you imagine what the cost of wrong drug testing results would be for any company? It is not merely a waste of money and time but it can also result to demoralization of the work force in the case of false positives or danger for false negative results. The main objective of random drug testing in the work area is to ensure that employees are physically and mentally fit to work. Home drug testing for a family member can facilitate early intervention to help the drug user's condition from getting any worse before treatment is given.
Times have indeed changed. Drug use is now happening even to people who do not fit the usual picture of a drug user. Social pressure and opportunity are known to be the usual precursors of drug use. The importance of early detection of drug use cannot be overemphasized. It can save lives, families, and careers. Opting for a simple drug testing method such as the 3 Panel Oral Fluid Drug Screening Device can make the task of detection easier.
For complete information, visit http://www.meditests.com or direct inquiries to Medimpex United, Inc. at info@meditests.com.
Contact: Alex Vulfov
Address: 984 Bristol Pike Bensalem, PA 19020
Phone: 1-866-848-4378 (9:00 AM – 6:00 PM)
Alternate: 1-215-245-4477
Email: info@meditests.com
URL: http://www.meditests.com