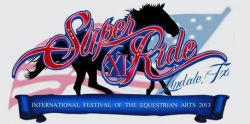 Lindale, TX, June 12, 2013 --(
PR.com
)-- SuperRide XI, the 2013 United States Equestrian Drill Championship (USEDC) will be held at the Texas Rose Horse Park, near Lindale, Texas, from June 18 – 22. The City of Lindale continues to host the event each year and offers the event great facilities, lodging and shopping. The championship will bring together drill teams and mounted color guard units from throughout the United States for top level competitions in 24 divisions – including categories for adult, youth, novice, and challenged riders.
Home to the Super Ride since 2008, the Texas Rose Horse Park is where champions come to compete at this horse and rider friendly facility. The camaraderie, skill, and attention to detail formed within each drill, quad and color guard unit is closely akin to that seen at the championship levels of other team sports – baseball, football, basketball, soccer, etc.
"It's a sport that gets into your blood," says Gary Bonner. Teams return year after year to renew friendships and enjoy the competition. "In fact, the youngsters often become so involved they continue riding through adulthood and there is nothing better than witnessing the bonds that it builds within families," says Ghostrider Equestrian Drill Team Founder and Drillmaster, Pam Bonner. Sara Bass is a perfect example as she began riding with the Ghostriders a number of years ago, graduated from college, and is now team coach. Both Pam and Sara continue to ride and compete with the team.
Featured events at the 2013 Super Ride will include the USEDC National Open Division Drill Championship on Friday evening, June 21st and the Theme Division and Sixth World Championship ride on Saturday evening, June 22nd. The USEDA All Star Ride, featuring the nation's best junior and young rider talent will close out the events. The presentation awards will follow.
Super Ride has partnered with Beatlivertumors.org to bring awareness to all involved and will continue to spread Hope across the world. Suzanne Lindley and her family have been involved with drill team for over 8 years. Suzanne continues to inspire Hope in all she touches.
For more information on Super Ride XI, or to become a sponsor of the event or scholarship donor, please visit www.superride.org or call 972-679-0770.
About USEDC Super Ride XI Championship
The USEDC National Championship, Super Ride XI provides community outreach to participants in all communities, inclusion of challenged riders while providing a bridge between rural, urban and suburban communities. Never in the history of the equestrian sport has such a diverse group of riders come together for national competition from the novice to the experienced all become champions.
About USEDA
The United States Equestrian Drill Association (USEDA) is the national governing body for drill and mounted color guard competitions. The USEDA fosters the continuation of the All Star Team, a group of top youth riders selected by their team each year, a scholarship program and nationwide drill competitions at the local, state, regional and national level.