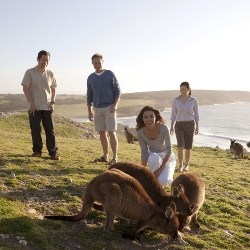 Belleuve, WA, June 19, 2013 --(
PR.com
)-- Down Under Answers, a leading wholesaler for Australia, New Zealand and South Pacific vacations, has launched a selection of competitively priced vacation packages highlighting South Australia and New South Wales. The lead offer is an 8-night Sydney and Adelaide vacation from $2299 per person including round-trip airfare on Virgin Australia from Los Angeles, 8 night hotel accommodation, a full day Kangaroo Island Highlights tour, fuel surcharges and taxes.
According to Kirk Demeter, President of Down Under Answers, "The southern region of Australia is truly unmatched in its beauty and provides such varying and spectacular travel experiences." Mr. Demeter adds that these destinations are perfect for a wide range of travelers including repeat vacationers who want to experience another side of Australia; vacationers who love to participate in adventure activities; families who are looking for the best value for their travel dollar; and the upscale market who seek touring via private aircraft, five-star hotel accommodations, and more.
While Sydney has long been at the top of traveler's lists more and more people are discovering the exceptional State of South Australia. With scenic beauty, world class wines and cuisine and epic nature and adventure offerings, more American travelers are choosing to include South Australia in their travel itineraries. Highlight destinations include the ecological haven of Kangaroo Island, the famed Barossa Valley and the Colonial city of Adelaide. With koalas lounging in trees, kangaroos bounding across the horizon and seals and sea lions basking on the beaches, visitors to Kangaroo Island quickly realize why this place is known as the "Zoo without fences."
Down Under Answers' introductory vacation package offers visitors a taste of both Sydney and Adelaide with a day tour to the wildlife sanctuary of Kangaroo Island and includes:
· Round-trip airfare on Virgin Australia from Los Angeles to Sydney and Adelaide
· 4 nights in Sydney at the Vibe Rushcutters Hotel
· 4 nights in Adelaide at the Mercure Grosvenor Hotel
· Full-day Kangaroo Island Highlights Tour
· Applicable airline fuel surcharges
· US/foreign taxes & fees including Sep 11 Security Fee
Packages are easily amended to include day trips and overnight journeys to popular destinations including the Barossa Valley and Blue Mountains National Park.
This package is priced from $2299 per person, based on double occupancy for travel from Los Angeles from July 24 to September 21, 2013. Package is available for travel through 30 November, 2013 at higher rates due to seasonal surcharges. Add-on fares available from other US cities. Advertised pricing reflects lowers season pricing. Seats/rooms are limited and subject to availability at time of booking. A higher class of service may be offered as an alternative. US/foreign taxes/fees, including September 11th Security Fee are included. Amendment fees & cancellation penalties apply. For additional package information, call Down Under Answers on 866-612-9111 or click
here
.
About Down Under Answers
For over 20 years, Down Under Answers has been designing quality vacations to Australia, New Zealand and the South Pacific. A multi-award winning travel wholesaler, Down Under Answers is committed to bringing our travelers the freshest and most irresistible vacation ideas. Repeatedly voted Best Travel Wholesaler by Tourism Australia and Tourism New Zealand specialists, we employ seasoned destination specialists to customize vacations for independent travelers—ranging from unique, experiential holidays tailored to suite style, taste and budget, to pre and post cruise itineraries, shore excursions, escorted tours, destination weddings and honeymoons, private experiences to groups of any size and much more.