Miami: A Survivor's Tale by Frank Abrams is Available for Sale, Pre-Publication Through The Black Mountain Press
"Flailing the air with the sharp wit of coconut machete words, Frank Abrams cuts the head square off Miami, nestles it under his arm, and boldly walks through the headless city, talking to himself. Everywhere people stare, eyes dumbed down, as plaintiff cries, barking dogs, gunshots and real estate developers drown together in a sunburned stew of history gone awry," Pete Gallagher, award winning writer. Author Frank Abrams, former Miami resident, is a federal panel attorney in Asheville, NC.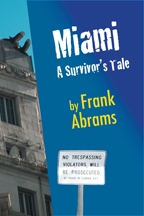 Asheville, NC, June 25, 2013 --(
PR.com
)-- Miami: A Survivor's Tale, A book written by attorney and author Frank Abrams, is available for sale, Pre-Publication, by The Black Mountain Press of Asheville, NC.
"The author spins a tale of crime, decay, social and moral collapse. He talks about friends and acquaintances, the unspeakable tragedies that happened in their lives. He tells personal tales, scary tales of things that happened to him. He talks about the many sad changes to that city, and how those changes directly affected both him and his family. In the end, as he pulls himself from this cesspool of violence and discord, he wonders out loud, 'what had gone so wrong'." Paul Schnitt, award winning writer, former Florida Governor's press spokesman.
Author Frank Abrams is a federal panel defense attorney in Asheville, NC. He is also inventor of the musical instrument known as the Banjo-Tam. This former Miami resident's book is now available for pre-publication order through: theblackmountainpress.com/catalogue.html