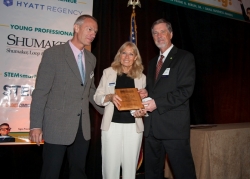 Sarasota, FL, June 21, 2013 --(
PR.com
)-- Charity & Weiss International Realty has been honored with the 23rd Annual Frank G. Berlin Small Business Award in the category "International Business of the Year" on May 10th 2013.
The Frank G. Berlin, Sr. Small Business Awards luncheon is held annually in the spring and has become the most prestigious business awards luncheon in the Sarasota area with more than 500 business owners and community leaders attending each year. It recognizes local member businesses and individuals in various categories. Finalists are judged on several areas including innovation of product or service, response to adversity, business growth and contributions to community. Charity & Weiss is the first Real Estate Company ever to win a Small Business Award in any category.
Founded in 2006 by Gabriele Charity and Ruediger Weiss, Charity & Weiss International Realty is dedicated to "Building Bridges between European & U.S. Buyers and Sellers." The Company accomplishes this by offering a multi-lingual environment and understanding the needs and concerns of international, national and local buyers and sellers. Also Charity & Weiss is providing not only sales service, it also provides every angle of Property Management, which gives their clients the assurance that their investment will be safe guarded in their interest by the same company.
Charity & Weiss and its Realtors® have years of experience in the special needs and concerns of foreign buyers and sellers. Speaking the language and understanding their cultural back ground helps clients feel comfortable with the procedures and regulations of U.S. Real Estate.
Nearly 70% of Charity & Weiss clients are German, Swiss or Austrian citizens. Foreigners invest here to diversify their assets and they understand that the U. S. is a safe country to own real estate.
Gabriele, born and raised in Munich, Germany started in the real estate business in 2001, and acquired her broker's license in 2006. Ruediger (Rudi), born in Hamburg was Executive Manager of the Real Estate Department at Dresdner Bank in Frankfurt, where he dealt extensively in international residential and commercial real estate.
Charity & Weiss has recently moved to a larger office, located on 1718 Main Street, Suite 200A in Downtown Sarasota.
www.CharityWeiss.com
Contact:
Gabriele Charity
Gabi@CharityWeiss.com
(941) 365-0022