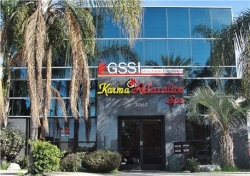 San Diego, CA, June 25, 2013 --(
PR.com
)-- Christopher Weil & Company, Inc. (CWC), a financial services firm, today announced that CWC Income Properties 1, LLC, a private equity fund, has purchased a commercial building in Hillcrest for $3,000,000.
The 9,500 square foot 2 story building which was built in 1967 and fully renovated in 2009, sits on .25 acres at 3969 First Avenue in San Diego. The building is fully occupied by a structural engineering firm and a day spa. The Managing Member of CWC Income Properties 1, LLC is CWC Asset Advisors, Inc., an affiliate of Christopher Weil & Company, Inc.
"Investing in commercial properties for income generation has long been a focus for our private equity ventures," said John Wells, CWC President and CEO. "We believe there are some solid investment opportunities here in San Diego. This is our first property purchase of this kind in the area, and is an interesting addition to our diverse range of local private equity properties, including nearly 90 single family residential homes in San Diego County. CWC's mutual funds and private equity funds give us unique investment vehicles to offer our clients - individuals, families and small institutions - for inclusion in their equity and income portfolios."
About CWC Asset Advisors
CWC Asset Advisors, Inc. (CWCAA) is currently the Managing Member or General Partner of several private equity funds including a venture fund and funds investing in San Diego area single family homes and commercial properties. CWCAA also provides management and administrative support to more than a dozen entities for another affiliate, Storage Managers, Inc. The partnerships consist of real estate (mini-warehouse facilities, commercial office and land), several venture capital funds and an oil and gas producer.
About Christopher Weil & Company
Christopher Weil & Company, Inc. ("CWC") is a financial services firm that services clients nationwide. With over forty years in the financial world, CWC, together with its affiliates, work from every angle as investors, managers and advisors (IMA's) to bring their clients peace of mind. The firm is both a securities broker-dealer and a registered investment advisor, enabling it to provide a comprehensive and integrated mix of client services. CWC is innovative in responding to client needs and dedicated to nimble, intelligent customer service with a personal, family touch. For more information, please visit www.cweil.com.