Hikari Miso Joins Forces with Laura Santtini & Easy Tasty Magic™ to Spread the Word About Umami Deliciousness
Laura Santtini's Taste # 5 Nobu Far Eastern Vegetarian Will Showcase Hikari Miso to the World.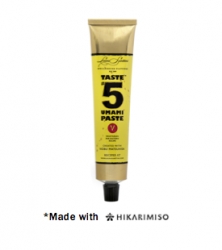 New York, NY, July 01, 2013 --(
PR.com
)-- Hikari Miso Co., Ltd. is delighted to announce a global collaboration with world flavor expert Laura Santtini, to supply their premium miso paste as a featured ingredient in the new Far Eastern Vegetarian Recipe of her signature product, Taste #5 Umami Paste™ developed with celebrity chef Nobu Matsuhisa.
"Every product I develop has its roots firmly in the traditional and authentic and its head in the stars," comments Ms. Santtini. "I am so honored to be able to showcase the incredible Hikari Miso to the world."
Hikari Miso is a key ingredient in this transformational recipe and combined with other umami-packed ingredients including shiitake mushrooms, soy sauce, green tea, yuzu and ginger, Taste #5 Nobu Far East Vegetarian Flavor delivers authentic, easy, tasty, magic to any dish.
Hikari Miso Co., is a family run, heritage brand, started in 1939, and the leading name in authentic, high-quality Japanese miso. Since its launch in 2009, Easy Tasty Magic, has become synonymous with cutting-edge new product innovation by bringing the elusive fifth taste into the home kitchen.
Like Ms. Santtini, Hikari Miso believes miso is a stellar example of Japanese umami, and they will be working together to bring miso and umami to a wider global market. Umami means "savory deliciousness," in Japanese and is the fifth basic taste (in addition to salty, sour, sweet and bitter) that was discovered in Japan in 1908. The collaboration of these two great brands will seek to educate consumers around the globe and open their minds, palates and kitchens to the world of flavor that this great product and umami can offer as well as encourage continued use of miso in more than just its traditional forms.
About Hikari Miso
Hikari Miso Co., Ltd., headquartered in Nagano, Japan, is a leader in the miso industry, manufacturing and selling high quality miso products as well as providing technical and marketing support worldwide. Since its founding in 1936, Hikari Miso has been particular about the ingredients of miso and has adhered to conviction in producing miso in Nagano with the best environment and water in Japan. Believing it essential to provide the most natural miso possible, the company was first in the industry to introduce organic and all-natural miso. The company also broke ground by being the first to be certified by leading food safety and quality control program, BRC Global Standards, and stays proactive in its commitment to food safety.
About Laura Santtini
Laura Santtini is among the world's leading experts in flavor and an award-winning cookbook author. Much of her passion for food came from her Italian grandmother, as well as her parents, who launched the renowned Italian restaurant Santini in London, celebrating its 25th anniversary this year. Laura is the author of the award-winning cookbook Easy Tasty Italian (Sterling Epicure, 2010) and her newest book Flash Cooking: Fit Fast Flavours for Busy People (Quadrille, Nov. 2011) is a bestseller in the United Kingdom. She created Taste #5 Umami Original in 2009 and it quickly became a global sensation, selling in the United Kingdom, North America, Europe, and Japan. Laura has been featured in major publications and on television around the globe. For more information and delicious recipes, visit
www.laurasanttini.com
. Follow Laura on Twitter @Laurasanttini.
Contact
Laura Santtini
Kimberly Yorio
212-609-5009
http://www.laurasanttini.com/

Contact