TripAdvisor Recognizes Maya Villa with a 2013 Certificate of Excellence
Maya Villa Condo Hotel & Beach Club is pleased to have been among the Playa del Carmen hotels presented with a TripAdvisor 2013 Certificate of Excellence.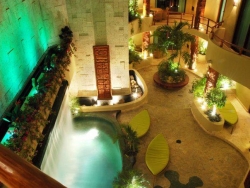 Playa del Carmen, Mexico, July 17, 2013 --(
PR.com
)-- Condo Hotels Playa del Carmen is proud to announce that Maya Villa Hotel in Playa Del Carmen has won yet another award from TripAdvisor. Maya Villa has now been awarded the 2013 Certificate of Excellence.
In order to earn the Certificate of excellence award, hotels need to rank four out of five stars consistently for a 12-month period. Consumer reviews are surveyed and the average score is then calculated. Only 10 percent of all businesses listed on the site are awarded this certificate. As a popular Playa Del Carmen hotel, Maya Villa has met these requirements.
"We are thrilled to receive this award to several others that Maya Villa has earned," says Jack Perlman, owner of Condo Hotels Playa del Carmen. "We are delighted that so many of the guests who have come to stay in our Playa del Carmen hotel have wanted to share their experiences with others. We strive to provide excellent service and wonderful accommodations for our guests."
TripAdvisor is one of the world's largest travel sites that allows vacationers to independently rate hotels, restaurants, and attractions. These reviews are used to rank businesses and are also used by vacationers to help them plan successful trips at home and abroad.
Maya Villa has already been awarded two other TripAdvisor awards in 2013. It is currently ranked 4th on TripAdvisor's Top 25 Small Hotels in Mexico and 13th on their list of the Top 25 Best Service in Mexico. On the Maya Villa TripAdvisor page, it has a 95% satisfaction rating and is currently ranked 3rd out 183 hotels in the area.
On the hotel's page on TripAdvisor, there are several ways that prospective guests can explore the Playa Del Carmen hotel. Guests have written short reviews about their experience at the hotel and each have given their own ranking. There are also photos that have been uploaded by past guests as well as professional photos that showcase the beauty of the surrounding area and the property. Many guests have remarked that they have returned to the hotel on multiple occasions. As one reviewer remarked, "The awards are true... it's a winner."
The location is ideal for the vacationer looking for a Playa Del Carmen hotel that is close to everything. It is situated between the beach and the city and guests are only a short walk from either. It also satisfies those who are looking for a luxury Caribbean vacation outside of Cancun. The style and architecture is reminiscent of Mayan culture, and the grounds are landscaped with waterfalls, archways, and local flora. The location also features a jade glass mosaic pool. Unlike an average hotel, the units are set up as a condo-hotel style. Each guest has access to plenty of private space in each unit including a kitchenette and other home-like amenities.
For more information about booking a room at Maya Villa, vacationers can visit the website at
www.mayavilla.com
or contact the office at +52 984 803 1979. It is located at 1 Avenida Norte Entre Calle 14 Norte y 16 Norte Bis, 77710 Playa del Carmen, Quintana Roo, Mexico.
About Condo Hotels Playa del Carmen
Condo Hotels Playa del Carmen has earned some of the highest ratings on TripAdvisor over the years. The company operates a number of affordable luxury Playa del Carmen hotels and beach clubs along the playa. Located close to the city, guests have access to local shopping, restaurants, and attractions from any of their locations.
Contact
Condo Hotels Playa del Carmen
Kenneth Schmidt
+52 984 879 3918
www.condohotelsplayadelcarmen.com

Contact