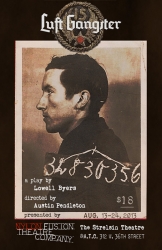 New York, NY, July 12, 2013 --(
PR.com
)-- Nylon Fusion Theatre Company Presents the World Premiere of "Luft Gangster" by Lowell Byers and Directed by Austin Pendleton from August 13 – 24, 2013 at The Dorothy Strelsin Theatre.
Nylon Fusion Theatre Company (Ivette Dumeng, Producing Artistic Director) announced today that they will present Lowell Byers' "Luft Gangster "August 12 – 25, 2013 at The Dorothy Strelsin Theatre (312 West 36th Street, bet. 8th and 9th Avenues), directed by Austin Pendleton, a veteran actor and director, best known for his direction of Elizabeth Taylor and Maureen Stapleton in Hellman's The Little Foxes, which garnered him a Tony Award nomination.
Based on a series of interviews between the playwright and his cousin, Louis Fowler, "Luft Gangster" follows the story of Lou from the time he had to bail out of his B-24 Liberator in March, 1944, through the 13 months he spent as a prisoner of war in Stalag Luft VI.
The cast includes Noel Joseph Allain*, Gabe Bettio*, Paul Bomba*, Christopher Burke*, Lowell Byers, Ralph Byers*, Kyle DeSpiegler, Seth James, Casandera M.J. Lollar*, Eyal Sherf* Directed by Austin Pendleton, "Luft Gangster" production team includes Tijana Bjelajac (scenic design), Jeanne Travis (sound design), Debbi Hobson (costume design) Greg Kanyiscka (props master), and Montserrat Mendez (assistant director).
The "Luft Gangster" performance schedule is August 13th – 24th, 2013, Tuesday through Saturday at 8:00 pm with additional performances Monday August 19th at 7:00pm; Wednesday August 21st through August 24th at 8:00 pm and Saturday August 24th at 3pm. Performances will be held at Dorothy Strelsin Theatre (312 West 36th Street, between 8th and 9th Avenues; Subway: 1 to 34th Street or A/C/E to 34th Street). Tickets are $18. For tickets and information please visit http://www.nylonfusioncollective.org or email: nylonfusion@gmail.com
Nylon Fusion was founded in 2007 as a collaboration of like-minded artists from New York (NY) and London (Lon). Nylon Fusion is a company of writers, actors and directors from a broad range of backgrounds, holding onto our community roots here in New York. We are committed to developing and producing original plays that explore political, social and cultural awareness. Nylon Fusion is currently nominated for 9 Planet Connection Awards for Marina and Mata Hari, two world premiere plays by Don Nigro.
Austin Pendleton is currently appearing at the Manhattan Theatre Club in Choir Boy, by Tarell McCraney. He has recently, in New York, directed three Chekhov plays at Classic Stage Company -- Ivanov, Three Sisters, and Uncle Vanya -- with such actors as Ethan Hawke, Maggie Gylenhall, Peter Sarsgaard, Juliet Rylance, Jessica Hecht, Mamie Gummer, and Denis O'Hare- as well as The Last Will, by Robert Brustein, at the Abingdon Theatre. He has acted on and off and off-off Broadway, and directed in all those places, and appeared in about 150 movies, as well as in recurring roles on such TV shows as Oz, Homicide, and Law and Order. He is a member of the Ensemble at Chicago's Steppenwolf Theatre, and began his careers as both actor and director at the Williamstown Theatre Festival.