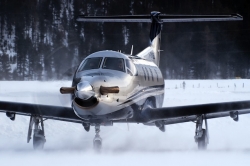 Sun Valley, ID, July 18, 2013 --(
PR.com
)-- A Pilatus PC-12 aircraft, often referred to as a flying SUV, will be the centerpiece of a Hangar Open House to welcome the first official members as well as meet potential members of the new Sun Valley Air Club (SVAC). Atlantic Aviation will provide the venue for the event on Wednesday, July 24 from 5 to 7 pm at its private terminal at the Hailey Friedman Airport.
In response to the increasing hassle, lack of reliability, and total time required to get to and from the resort community of Sun Valley by air, a local homeowner and respected charter flight operator Norman H. Nie has spent months developing a solution for a certain segment of the Wood River Valley community.
With Hailey Friedman (KSUN) as the hub airport, a fleet comprised of a Learjet 60, a Pilatus PC-12, and two Saab 340Bs will provide direct flights to and from Seattle, Denver, Oakland, the Los Angeles area, and Palm Springs for Club members and their guests.
According to Nie, SVAC is not meant to compete with commercial airlines "whose service to Sun Valley all of us want to see increased." SVAC will operate as a member-based air charter broker. Club flights will be organized in response to member requests or "self-aggregation" as required by the Dept. of Transportation.
Members will also have the option to charter a plane for their exclusive use, allowing them to arrange for flights to other destinations.
The Atlantic Aviation terminal venue for the Open House will serve as the gate for all SVAC flights. "No body scans, searches, shoes or toothpaste checks required. Just climb aboard about a half hour before liftoff, enjoy some freshly prepared snacks, and arrive at your destination smiling," explains Nie.
Nie believes the air service challenges in Sun Valley are having a big impact. "Other resort communities are bouncing back from the recent recession, but real estate values, jobs, and economic activity have not returned at the same rate in the Wood River Valley," observes Nie. "Many of us are concerned about quality employers here moving staff to other locations where there is good air service. Other businesses or individuals are hesitant to move here or purchase a home here because of the travel challenges."
If sufficient membership can be subscribed this summer, limited air service could begin by October. "The sooner we can obtain necessary commitments, the sooner we can be welcoming members aboard a comfortable, safe, nonstop flight," Nie points out.
Platinum Memberships closed July 15; Gold Memberships will close August 15; Founding Memberships close September 30. These early members will enjoy special privileges and benefits, including liquidation rights should the Club cease operations in a few years.
For more information or to RSVP, contact Juli Miller at 916-717-4118 or juli@svairclub.com.