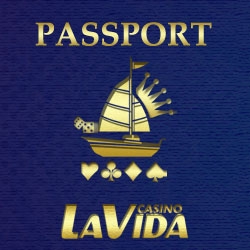 Toronto, Canada, July 20, 2013 --(
PR.com
)-- Casino La Vida has been taking its players to Paradise in the form of a pioneering new campaign, Passport to Paradise. The climax of the campaign is the La Fiesta Grande tournament, which will give away $50,000 in prizes. Registrations for La Fiesta Grande opened on Thursday 18 July.
La Fiesta Grande begins next week on 29 July. It is a lavish, multi-round leaderboard tournament which will be handing out $50,000 in prizes, cash and giveaways over the space of 5 weeks. The tournament will be broken up into three qualifying rounds to be held for one week each, before finalists go into a two-week-long final round.
La Fiesta Grande, which means 'the big party', fits neatly into the Passport to Paradise promotion, which has been in play since the end of June 2013. Passport to Paradise is a European vacation romp across all the fabulous party spots of the continent. Eight stops, including Italy, France and Spain, give Casino La Vida members the option to participate in that destination's offer and get a 'passport stamp', five of which will qualify the member for the chance to win fabulous prizes, including a VIP cruise for two worth $15,000.
Apart from the Passport to Paradise prizes, La Fiesta Grande will award $50,000 to its winners. Among the more fabulous prizes are an advanced driving course and a year's supply of Champagne to live the high life with.
For the La Fiesta Grande leg of the adventure, the action is set in three different locations in the Greek isles – Corfu, Mykonos and Crete. Participants need to play, deposit and wager at the casino enough during at least one of the qualifying rounds to secure their spot in the final.
La Fiesta Grande is a leaderboard tournament, meaning that prizes are awarded according to points, and points are awarded based on participation. This means that those who have the most fun playing their favourite La Vida games will also be the most rewarded. Weekly prizes will be handed out, both to the winners of each round and to random players striking it lucky. Players who qualify for the final will also be awarded a cash bonus between $15 and $45 absolutely free.
Those who wish to play in La Fiesta Grande can register until 29 July to earn an Early Bird Bonus of 100 tournament points. The tournament starts on the same day.
For more information about the
La Fiesta Grande tournament
or to register an account with Casino La Vida in order to play, visit
Casino La Vida
.