The Number of Operations on Banking Cards Issued by Uniastrum Bank in the Framework of the Benefit Program Has Grown by 3 Times
The turnover on bank cards of Uniastrum Bank issued in the framework of the yearly benefit program (April 2013 vs April 2012) has grown by 3 times. The most popular categories of companies where the UB cardholders are given discounts are represented by clothes & shoes sellers, cafes and restaurants which account for almost a half of all transactions.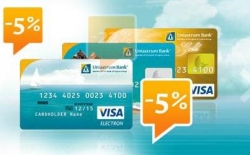 Moscow, Russia, July 20, 2013 --(
PR.com
)-- The average amount of transaction on a card in the framework of the benefit program amounted in April 2013 to almost Rb 4.6 thousand, and it has gone up around twice during a year.
The Uniastrum Bank cardholders are entitled to a benefit program involving over 1.5 thousand companies from different economy sectors including over 100 cafes, over 230 shops, fitness clubs, beauty parlors, tourist companies etc. The card discount granted under the program reaches 40%.
Besides the discounts and special offers in the framework of the benefit program, other convenient services and special benefits are offered. For example, one can reserve free of charge a table in a restaurant or in a café where discounts are granted to those who pay with a Uniastrum Bank card. Today the program operates in Moscow, St. Petersburg, Voronezh, Yekaterinburg, Nizhny Novgorod, Orenburg, Rostov-on-Don, Tomsk, Saratov and Ufa. The program geography is constantly expanding.
Uniastrum Bank is an active player in the market of settlement and credit cards. Today the loan portfolio of the bank related to card loans exceeds Rb 4.1 bn. On a monthly basis, the customers utilize the credit limits to the total amount of Rb 350-400 mn.
"The Russian market of credit cards has a good potential today," says Susanna Uzunyan, Head of the UB Banking Product Development Division. "At present, only each tenth bank card held by a Russian resident is a credit one. We expect a dynamic growth of this market and are planning new banking products to be worked out on the basis of credit cards, different co-branding programs and further development of the loyalty program."
Contact
Uniastrum Bank
Kseniya Chernisheva
0074957440404
www.uniastrum.ru
For more information call or write Press office:
press@uniastrum.com

Contact