Coffee Speciality Passions Run High at Zeppole Cafe
Zeppole Cafe has added another Zeppole's in Salisbury, Maryland. The new Zeppole's is drive-thru only. Zeppole Italian donuts are offered in both cafe's. Excellent accompaniment to their Specialty Coffees, Lattes which they make the best in town. Zeppole pastries are a family tradition and delectible.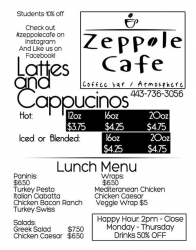 Salisbury, MD, July 26, 2013 --(
PR.com
)-- Zeppole Café recently added another location at the intersection of Isabella Street and Rt. 50, Salisbury. Coffee and donut lovers, Zeppole that is, will now be able to drive-thru, order and be on their way.
Austin Zduriencik, owner of both locations, the original of which is on Mount Hermon Rd, stated, "We recognized the value in providing a quick drive-thru coffee and donut business serving our morning commuters that don't have any extra time to get out of their vehicle." He further went on to say that, "We serve two goals…..they get their much needed morning coffee and donuts and then we get them to work on time."
At both locations, Zeppole's makes "the best lattes in town," according to Zduriencik and his regular customers of about 3,000 per month reinforces that remark. While others are shutting down, Zeppole customer passions run high which in turn allowed Austin to take a look at his business plan and concluded that a drive-thru Zeppole's would be a part of the 2013 business.
"It's not only the specialty coffees that keep our customers coming back," acknowledged Zduriencik, he explained that sharing his family tradition of Zeppole pastry has given his patrons a unique experience while enjoying that cup of coffee. At the Café, two Zeppole also accompany the luncheon sandwiches introducing these "Italian Donuts" to all.
Tradition of having Zeppole at various family gatherings and festivals led Austin to the naming of his Café. Serving the Zeppole year-round is just another plus. "Food connects us with our past," commented Zduriencik and tradition seems to be an important part of family togetherness that he is happy to share.
Zeppole, pronounced "ZAY-poe-lay" has quite an interesting history," he advised. Dating back to the middle ages around 1460 there was a severe drought in Southern Italy, Tunisia and Egypt area where people prayed to St. Joseph for rain. When it finally did rain, Tunisians celebrated by baking these special pasties and dedicated the occasion as St. Joseph's Day and naming St. Joseph as the Patron Saint of Pastry Chefs. Some call Zeppole, St. Joseph Day cakes. In Egypt the tradition is also evident but the pastries are called Zalabiyya. Zippula is the Sicilian name. Whatever the name, customers find them delectable with their morning tea or coffee.
Both locations offer specialty coffees and other drinks. The Zeppole vary coatings and some are cream filled. Zeppole at the Rt. 50 and Isabella Street intersection is drive-thru only and Zeppole Café, 1207 Mount Hermon Rd, Salisbury, MD is open for breakfast and lunch, sit down or carry out, with free WiFi available. Coffee connect meetings are popular at the Café. Check out their latte artistry on the Zeppole Café Facebook page. Hours 6 am – 5 pm. If ordering ahead, you may call 443.736.3056.
Contact
Zeppole Cafe
Austin Zduriencik
443.736.3056
Diane Meyer
Marketing Consultant
302.539.3313

Contact