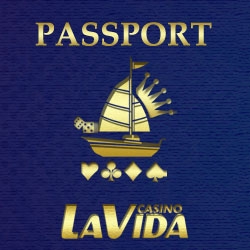 Toronto, Canada, July 29, 2013 --(
PR.com
)-- Monday 29 July, marks the start of the long-awaited La Fiesta Grande tournament at Casino La Vida.
As part of Casino La Vida's ongoing Passport to Paradise campaign, the La Fiesta Grande tournament will be giving away $50,000 in extravagant prizes, cash and giveaways. These include a year's supply of champagne, a 55-inch HD television, an Intensive BMW Driving Experience, a Samsung Galaxy Note and more.
La Fiesta is a five-week tournament consisting of three qualifying rounds of one week each and a two week-long final. La Fiesta Grande will be a leaderboard tournament, which means that participants are rewarded with points the more they play, and get more and more lavish prizes the higher they climb up the leaderboard depending on how many points they have.
Not only this, but bonus cash rewards will be handed out each round to those who get enough points to qualify for the final – anything from $15 to $45 absolutely free.
The tournament makes up the fifth stop in Casino La Vida's Passport to Paradise campaign. Passport to Paradise is a months-long, extravagant promotion set all across Europe in the form of a virtual cruise all Casino La Vida patrons enjoy aboard the Viva La Vida yacht. Those who get five or more of their passport stamps by participating in the five Passport to Paradise offers, including La Fiesta Grande, go into a draw to win a luxury cruise for two worth $15,000.
La Vida members, who have not yet registered, may still register and play for the prizes and bonuses up for grabs during round 1 of the tournament, which will run until this Sunday 4 August, 2013.
To participate and play in the La Fiesta Grande tournament, players are invited to sign up with
Casino La Vida
and register an account. Or for more information, view
La Fiesta Grande
tournament on the casino's promotions page.