Live and Cycle Amsterdam Like a Local by Renting an Amsterdam Apartment
Holiday lettings provider WorldEscape offers guests a free bicycle with apartment bookings made through AmsterdamStay.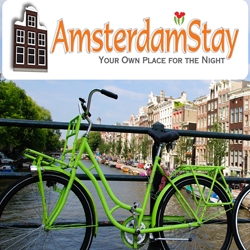 Amsterdam, Netherlands, August 09, 2013 --(
PR.com
)-- Have you ever wondered what is the best way to see Amsterdam? On a boat winding its way down the canals, on a tour bus that takes you around all the major landmarks or on foot for more opportunities to get real close to local life? A poll by local holiday rentals provider AmsterdamStay reveals that 68% of visitors say the best way to explore the city is by bike.
It is no secret that the narrow cobbled alleys and scenic canal streets of Amsterdam are best explored either on foot or by bicycle. Dozens of key museums, galleries, historic houses and landmarks situated on ancient streets are only accessible to pedestrians and cyclists. What is more, during festival times, which abound in the city, using public transport or motor vehicles becomes virtually impossible.
In Amsterdam, bicycles are like cabs in New York. In a country where millions of people get around on two wheels every single day, cycling seems to be the obvious choice. With more people riding bikes than driving cars it is hardly surprising that Amsterdam is the most cycling-friendly city in the world. There are cycling paths everywhere and lots of bike rental options. The city is relatively small, so if you have your own bike you can get around safely and
speedily.
In response to these findings
WorldEscape Group
through
AmsterdamStay
now offers guests booking long or short-term holiday apartments in the Dutch capital a free bike. "When in Amsterdam do as locals do. Everyone owns a bike, so the best way to get in with locals is to cycle. Here, it is one of the most popular and convenient means of transport," says a representative of Amsterdam Stay.
Living like a local is all about feeling at home and experiencing local lifestyle
The Amsterdam Stay motto is to allow travellers to live like locals and make the most of their stay. This is where the company's brand new offer comes in. Travellers whose rental booking exceeds 500 Euros get a free bicycle for a day and if they love cycling through Amsterdam they get a further 20% off the price of any extra bikes or days.
http://www.amsterdamstay.com/free-bike.html
Whether it is a business trip or a leisure holiday, arriving in a country, settling into an apartment and a new environment can be frustrating. To smooth the transfer AmsterdamStay offer their customers vetted apartments and ongoing assistance via airport transfers and 24 hour virtual concierge support.
"Renting your own apartment allows you to enjoy a lot more than what you get from a standard hotel room. Our holiday rentals have homey conveniences and facilities tailored to the unique demands of travellers with disabilities, young children or business needs. We want to ensure that travellers feel at home wherever they are and get immersed into local culture and lifestyles from the get go for a truly memorable experience."
AmsterdamStay is part of the WorldEscape group of vacation rentals providers who cover nearly 30 destination cities on five continents. The company offers a wide range of vetted holiday lettings in Amsterdam, Barcelona, Berlin, Hamburg, Munich, Calabria, Dublin, Edinburgh, London, Manchester, Moscow, Paris, Rome, Milan, Sicily, Florence, Venice, Sofia, Warsaw, Prague, Chicago, Los Angeles, New York, San Francisco, Washington, Delhi, Dubai and Sydney. The company is a leader in providing vetted short- and long-term vacation rentals with innovative services.
Contact
WorldEscape LLC
Emmett Brady
+1 (646) 233-1537
www.worldescapegroup.com

Contact