Lawrence History Live at Bread and Roses Festival
Within the Festival, Lawrence History Live, the speakers' tent, invites visitors to hear speakers present their insights on labor and the city past and present. People attending the Festival can ask questions and join in for a lively conversation.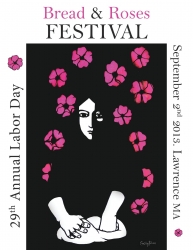 Lawrence, MA, August 19, 2013 --(
PR.com
)-- On Labor Day, September 2, the Bread and Roses Heritage Festival on the Common in Lawrence, Massachusetts, takes off with a range of exciting entertainment. It also invites all to the sixth annual forum for the discussion of labor and history, held in the Lawrence History Live tent at the center of all activities, from 12:20 to 3:30 pm.
The speakers are historians, writers, community activists, and union members who will share their insights on the city's heritage, including the 1912 strike, later labor action, and today's workers' lives. To bring issues up to the present, representatives from several labor unions will report on ongoing struggles and successes. – Festival visitors are invited to participate in these lively conversations.
Highlights are:
Opening: Workers' Poetry - Stephen Thornton on "Massachusetts Wobbly Ben Legere" - Corey Dolgon on his Scholars for Social Justice project - Jim Beauchesne on "Fasanella's Lawrence" - Dexter Arnold on the Ettor-Giovannitti-Caruso Case.
"Fairness and Justice at Work: Today" will be discussed by Milagro Grullon, Lawrence Community Connections / MICAH Workers' Center - Natalicia Tracy, Brazilian Immigrant Center on the Domestic Workers Movement - Keegan Cox, SEIU 509, on "Class Struggle: CLASS Inc. Workers Make History."
Concluding the program will be Frank McLaughlin, Lawrence Teachers Union, on teachers' current issues - Liana Foxvog, International Labor Rights Forum, on "Taking On Walmart, From Bangladesh to Bentonville" - Aubretia Edick from OUR Walmart, Chicopee, MA.
Sponsored by the Bread and Roses Heritage Committee, Inc.
Jurg and Linda Siegenthaler, organizers
http://breadandrosesheritage.org/festival-guide/schedule
Festival news on Facebook can be found at: Bread & Roses
GPS setting: 200 Common St, Lawrence, MA
Media Contacts: linda@breadandrosesheritage.org or jsieg@american.edu,
301-233-9653
Contact
Bread and Roses Heritage Committee
Jurg Siegenthaler
301-233-9653
http://breadandrosesheritage.org
jsieg@american.edu

Contact