Mae West's "Diamond Lil," Bowing to Popular Demand, Books Autumn Dates at Don't Tell Mama in Manhattan
Courting Mae West, LLC Announces: Underworld Meets Underwear in this Bawdy, Naughty Drama Set in the 1890s on the Bowery.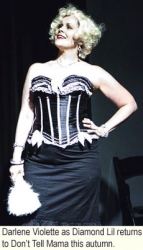 New York, NY, August 31, 2013 --(
PR.com
)-- Written in 1928 by Mae West, the stage play "Diamond Lil" has laced itself into a position of public awareness once again. Three events in August, that led to whoopee, winks, and ink in The New York Times, The Village Voice, The Brooklyn Courier, etc., lifted the petticoats of petulance from the attitudes of no less than 300 Manhattanites who have missed Mae West.
Stunning in her corsets and stupendous in her insouciant charm, actress Darlene Violette took the role of the Queen of the Bowery to the realm of full tilt boogie. And breaking with convention, the audiences interrupted each performance, cheering the cast often with applause so heavy that paint chips flaked off the ceiling.
Did you miss the merriment? Fear not. Those torso-tossing scenes of sin and sensationalism return to the red curtained realm called "Suicide Hall" this Fall. Come up sometime and reserve a seat.
Who, What, When, Where
See "Diamond Lil" This Autumn!
By popular demand, actress Darlene Violette — — and the wonderful cast who brought the Bowery denizens and Suicide Hall's ne'er-do-wells to life — — will return in "Diamond Lil" for several evening performances at Don't Tell Mama [343 W. 46th Street] on these dates in 2013:
7:00pm on Sunday September 15th and 22nd.
7:30pm on Sunday October 27th — Hallowe'en Party — come in 1890s costume!
7:00pm on Sunday November 3rd — vote for Gus Jordan for Sheriff Night.
8:30pm on Sunday November 10th
7:00pm on Sunday November 17th
7:00pm on Sunday November 24th
Call after 4pm to reserve a seat: 212-757-0788; RSVP online: www.donttellmamanyc.com
Closest MTA subway stations: 42nd St./ Times Sq. via A, C, E, 1, 2, 3
The public is invited (suitable for age 18 and over). Join us as we turn the iconic NYC nightspot Don't Tell Mama into Gus Jordan's "Suicide Hall"!
The Cast: Starring Darlene Violette as Diamond Lil, Queen of the Bowery and also featuring Sidney Myer, Anthony DiCarlo, Joanna Bonaro, Gary Napoli, Juan Sebastian Cortes, Kimmy Foskett, Jim Gallagher and live music by Brian McInnis
Read a Review of "Diamond Lil"
L'Idea Magazine's editors had a lot to say. Here's the link: http://www.lideamagazine.com/usa-still-entertaining-mae-wests-diamond-lil-makes-new-fans-in-new-york-city/
Staying faithful to the gritty themes in the novel by Mae West, LindaAnn Loschiavo trimmed the work to 85 minutes for a cast of eight.
Come up and see Mae West for yourself at The Mae West Blog http://MaeWest.blogspot.com.
Contact
Courting Mae West, LLC
Mae Westside
212-614-9683
maewest.blogspot.com
Sponsorship Inquiries only: 212-477-0893

Contact