Final: The Rapture Houston Premiere
Final: The Rapture, a Christian Film by RiverRain Production, to be released in select theaters in Houston, Texas on September 13, 2013. Cast and Crew from Los Angeles, CA will be there.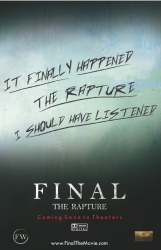 Houston, TX, September 10, 2013 --(
PR.com
)-- "Final: The Rapture" opens in theaters in Houston September 13, 2013
In what is becoming the most "scariest Christian movie of the decade," the movie, "Final: The Rapture" will open in select theaters in September 13, 2013 exclusively in Houston.
"We picked Houston because of the tremendous faith-based community here," says RiverRain Productions producer / director Tim Chey. "It's like a nuclear bomb that explodes to the rest of the world."
The highly-anticipated film is slated to open in select theaters throughout the U.S. starting in September 2013 starting in Houston and then on to LA, NY, Atlanta, Portland, Seattle, San Antonio, Nashville, and other cities.
"Final: The Rapture" was filmed in six countries, including Tokyo, Japan, Buenos Aires, Argentina, Mexico, etc. It took almost five months of shooting and had three spoken languages.
"A third of the film is in English, the other third in Japanese, and the other third in Spanish," says Chey. "It's a truly international faith-based film."
Breathtaking, gripping, layered, and astonishing, Final: The Rapture is a gritty, international tale of four separate stories woven together by a common theme: the Rapture.
In Los Angeles, Colin Nelson desperately attempts to flee to Bora Bora. Keenly aware that he's in the Tribulation period, his only hope is in a mysterious man. In Tokyo, a journalist, Masashi, tries to unravel the disappearance of millions of people as the government closes in on him. In Buenos Aires, Marie searches for her final relative as time runs out. And on a deserted island in the South Pacific, Tom Wiseman, an avowed atheist, attempts to be rescued after his plane goes down.
"Final: The Rapture"
Directed by Tim Chey, RiverRain Productions
Produced by David Turrell, Susan Chey
Executive Producers: Julie R. Burnett, Marc S. Clooney
Official Trailer: http://FinalTheMovie.com
Facebook: http://Facebook.com/FinalTheMovie
For Media contacts:
Peggy Lomb
RR Communications
310 860 7592
Contact
RiverRain Productions
Kym See
832-928-3839
www.finalthemovie.com

Contact