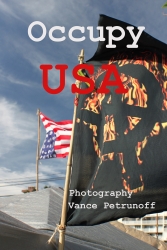 Sonoma, CA, September 08, 2013 --(
PR.com
)-- On the second anniversary of the birth of the Occupy Wall Street movement, Svetlana Bachevanova, publisher of FotoEvidence, announced the release of Occupy USA by Vance Petrunoff. Occupy USA is a photo book for the iPad that documents Occupy encampments in cities across the United States, from New York to Honolulu.
View in the iTunes store:
Occupy USA
Promotional copy available on request.
Amateur photographer Vance Petrunoff traveled the United States on a wine marketing road show. He witnessed the first Occupy Wall Street actions in Zuccotti Park and went on to turn his sympathetic eye on Occupy encampments in cities he visited throughout 2011 and 2012.
During the 1980s, Petrunoff escaped Communist Bulgaria and settled in the United States. He returned to Bulgaria in 1991 to support the Union of Democratic Forces (UDF) whose huge public demonstrations and long term encampments helped overthrow Communist rule. Though a committed proponent of a market economy, Petrunoff views popular movements sympathetically. His photographs reflect his belief that Occupy demonstrations and encampments are challenging an economic system that fails to represent the interests of a majority of Americans.
Sometimes whimsical, often touching, Petrunoff's photographs and comments capture the broad range of participants in the Occupy movement and the wide variety of slogans that demonstrators used to express their frustration with the status quo and the powerful economic actors that brought the US economy to crisis.
Speaking about his photographs, Petrunoff's sympathy for the Occupy demonstrators is evident, "My connection with the Occupiers was truly genuine, gentle and sincere. My hope is, that to your eye, these images convey Occupy Wall Street in that same genuine and sincere way that I understood the participants."
About Vance Petrunoff : Petrunoff successfully defected from Cold War Bulgaria on his second attempt in 1985, arriving in Anchorage, Alaska. His first attempt failed, as he was captured at the border of Yugoslavia when he was 17 years old. Petrunoff went on to study economics in Moscow and later Sofia.
From 1988 to 1991 he served as the Publisher of "International Trade Press" in San Francisco. He returned to Bulgaria in 1991. Just before the resurrection of Socialist power in Bulgaria in 1995, Petrunoff worked with the Union of Democratic Forces (UDF) as Media Manager for the Parliamentary elections in 1994. He produced the print campaign, posters and slogan for the UDF. Petrunoff came back to the United States in 1995. "I left Bulgaria twice because of the Communist/Socialist party." In 1996, he began importing Bulgarian wines to the United States and has since created the largest Bulgarian wine brand exclusively produced for the US market.
About FotoEvidence: Founded in 2010 by Svetlana Bachevanova, a long-time photojournalist, FotoEvidence continues the tradition of using photography to draw attention to people struggling for justice and dignity around the world.
Every year the FotoEvidence Book Award recognizes a photographer, whose work demonstrates courage and commitment in documenting social injustice, with the publication of a hard copy book.
At FotoEvidence.com, Report Injustice Now allows documentary photographers to submit images of injustice they witness for publication. In addition, FotoEvidence publishes FotoWitness, interviews with seasoned and innovative photojournalists intended to provide insight and inspiration for working and aspiring documentary photographers.
FotoEvidence:
Svetlana Bachevanova, Publisher
David Stuart, Editor
NY Tel. 347 457 6425 info(at)FotoEvidence(dot)com