Strong Upward Trend for Online Luxury Pet Supply Retailers at Catalogs.com
The wide consumer demographics and product diversity of the pet supply industry continue to feed growing web-based consumer traffic and sales trends at Catalogs.com.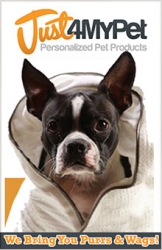 Fort Lauderdale, FL, September 18, 2013 --(
PR.com
)-- Pet supply retailers post record web-traffic and online sales figures for products ranging from veterinary prescriptions to orthopedic kennel pads, designer strollers and dog wedding cakes.
Pet product catalogs and online stores
at Catalogs.com saw increases in sales figures for the first three quarters of 2013, in line with industry experts' projected figures.
"This is another year of steady growth for retailers in the pet food, supplies and pet medicine categories," says Leslie Linevsky, Catalogs.com co-founder. "Luxury items for pets, like personalized bowls, doggie cologne and designer collars, continue to deliver outstanding performance, especially for unique or one-of-a-kind pet products."
"Pet supply spending is trending upward," agrees Christine Mazza, Pet Supplies Delivered Marketing Director. "But that doesn't mean that consumers aren't money-conscious and still spending carefully. Successful pet retailers are going the extra mile for their shoppers, with loyalty programs, membership rewards and competitive pricing. Prescriptions, flea and tick treatments, dental care products and, of course, treats are all exceptionally strong sellers. Pet owners are looking to save money on pet health necessities so they have money for luxury purchases for their best four-legged friends, too."
The American Pet Products Association (APPA) statistics on total U.S. pet industry expenditures indicate that animal-related purchases are strong and growing, despite the tough overall economic picture. In 2013, expenditures are on target to exceed $55.53 billion, significantly more than the $53.33 billion spent in 2012. Food, supplies and over-the-counter medicines are top purchases for the 68% of U.S. households that own a pet – more than 82.5 million homes.
Brian Beck, CEO and Chief Pet Lover at Just4MyPet, says that pet-spending was recession-resistant and gets stronger every year. "There is a significant segment of the population that continues to spend more and more money to celebrate their pets. Americans love their pets like their kids and the rest of the family. Many top-selling products reflect this, with gift-related items including personalized sports jerseys and custom-decorated dog birthday cakes at an all-time high."
Dogs and cats dominate the list of types of pets owned in the U.S., according the APPA, with pet owners representing every shopping demographic. Pet owners span all age, income and social brackets, with over half of all U.S. households owning at least one cat or dog and shopping for basic pet supplies, food and other-the-counter medications. The consumer demographics that drive the premium pet product market are primarily made up of households with income over $150K, online shoppers, dual-income no kid households, empty nesters and singles with household income above $50K, according to Packaged Facts report on Pet Demographics and Product Purchasing Preferences.
Statistics from Catalogs.com bear out that consumers of pet supplies are one of the most all-inclusive demographics. To appeal to the broad base of shoppers in this category, pet supply stores at Catalogs.com have been selected to represent a wide array of both essential dog and cat basic care items and luxury goods, and also feature horse, exotic pet, fish and bird supplies. "Pets give us unconditional love, and it's not difficult to understand how spending on special items for them makes pet owners feel good, whether they are buying accessories for a tortoise tank or a cedar-filled dog bed," adds Linevsky.
About Catalogs.com
Since 1996, shoppers have universally recognized Catalogs.com as a trusted shopping and catalogs portal, attracting more than one million unique visitors each month. The comprehensive Catalogs.com website, newly launched Catalogs.com for iPad, and Catalogs.com online catalogs feature over 740 major and specialty retailers, and provide shopping access via web, iPad and mobile phone platforms.
Contact
Catalogs.com
Anne Rose
954-659-9005
www.catalogs.com

Contact