Arrowhead Grill: A Culinary Destination for Arizona Restaurant Week
Arizona Restaurant Week is giving Arizona foodies the chance to discover the top-notch dining experience provided by Chef Charles W. Schwerd at Arrowhead Grill.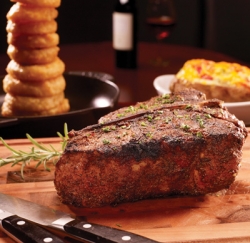 Glendale, AZ, September 19, 2013 --(
PR.com
)-- Arizona Restaurant Week is giving Arizona foodies the chance to discover the top-notch dining experience provided by Chef Charles W. Schwerd at Arrowhead Grill.
Casual diners and food connoisseurs alike will come together for the annual week-long celebration of food, with a specially-crafted, three-course prix fixe menu that features some of Chef Charles' most appreciated dishes, Saturday Sept. 21 to Sunday Sept. 29. The cost is $40 per person, tax and gratuity are not included.
"We're preparing an exciting culinary experience for Arizona Restaurant Week," said Chef Charles W. Schwerd, owner of Arrowhead Grill. "We're looking forward to seeing our wonderful patrons and new guests out for a culinary adventure."
Guests will begin their culinary adventure with a choice of a Caesar salad, house salad or chopped salad, each made with the finest ingredients, or a cup of rich and creamy New England clam chowder made with delicious Maine clams, potatoes and spices that chowder enthusiasts will adore.
Diners will revel in entrée selections such as Arrowhead Grill's famous Delmonico Steak, Chef Charles' nod to the original made famous by the Delmonico Hotel in New York at the turn of the 20th century. The 8-ounce Delmonico Steak is a deliciously seasoned and butter basted sirloin-cut steak that steak lovers hail for its flavor and quality.
Often referred to by those who have experienced it as the best Delmonico they've tasted, this is the must-experience entrée for steak-lovers visiting Arrowhead Grill during Arizona Restaurant Week.
Other prime entrées include Arrowhead Grill's succulent 10-ounce prime rib, tender, seasoned fire-roasted chicken, Hawaiian sunfish carefully prepared with a layer of macadamia nuts and cooked to a flavorful and crunchy-crusted perfection, and light and delicious halibut.
In addition to the main course, diners will have the choice of a side such as classic creamed spinach, delightful creamed corn, maple mashed sweet potatoes or creamy traditional Yukon mashed potatoes.
Patrons will celebrate their meal with the sweet finale, Chef Schwerd's irresistible butter cake.
Dinner guests can also indulge in Key Lime Pie or AG's warm Ghirardelli Double Chocolate Brownie served with chocolate ice cream for $7.99 each, or Strawberries and Chocolate Fondue for $5.99.
Chef Charles has hand-selected three Cabernet Sauvignon wines to pair with dinner. Charles Krug's Yountville, an elegant and balanced wine with flavors of cocoa, tobacoo, vanilla and dried currant perfect for pairing with steak, $16 per glass; Jordan's Cabernet Sauvignon, $20 per glass; and Napa Valley's own Cake Bread Cabernet Sauvignon, $20 per glass.
"Arizona Restaurant Week is an exciting event that allows Arrowhead Grill to offer new diners and our beloved patrons a wonderful culinary experience," Schwerd said. "It gives food lovers an opportunity to try something new and discover everything Arrowhead Grill has to offer."
Reservations are available by calling (623) 566-2224 or online at www.arrowheadgrill.com/reservations. For more information visit www.arrowheadgrill.com.
Known as one of the Valley's best steakhouses, Arrowhead Grill is located at 8280 W. Union Hills Dr. (Loop 101 and Union Hills) in Glendale.
To get the latest news on Arrowhead Grill's daily specials, follow Arrowhead Grill on Twitter at www.twitter.com/arrowheadgrill or on Facebook at www.facebook.com/arrowheadgrill.
About Arrowhead Grill
Established in 2008 by renowned Valley chef Charles Wade Schwerd, Arrowhead Grill epitomizes Schwerd's two decades of steakhouse experience, offering Valley residents a diverse menu of top quality steak and seafood. Featuring all natural meats and fresh, mercury-free seafood selected especially for Arrowhead Grill, the Glendale-based restaurant offers something for everyone in a setting that's unpretentious yet sophisticated. For more information, please visit www.arrowheadgrill.com.
Contact
Arrowhead Grill
Al Stevens
480-648-1770
www.arrowheadgrill.com

Contact