Mylec Hockey Signs Detroit Red Wings Captain Hendrik Zetterberg to Multi-Year Endorsement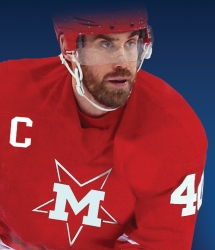 Winchendon, MA, October 04, 2013 --(
PR.com
)-- Mylec President Ricky Laperriere announced today that 2008 Stanley Cup Champion and Conn Smythe Trophy winner Henrik Zetterberg will endorse and promote Mylec Hockey's Street and Ball Hockey products in a multi-year agreement. All royalties will be donated to the Zetterberg Foundation.
Mylec has been an industry leader in the street and ball hockey products to the sporting goods industry for over 40 years. Mylec products are proudly made in the USA in Winchendon, MA, at a new state-of-the-art manufacturing facility opened in October 2011. "The Zetterberg endorsement brings a lot of excitement to our future marketing efforts in taking our brand to the next level," according to Laperriere.
Zetterberg, who recently was awarded the 2013 NHL Foundation Award for his numerous community initiatives outside of his on ice performance views "the Mylec partnership as an extended involvement for him to influence and assist young players of every age to participate in Street and Ball Hockey. The most important goal for every player is to enjoy the hockey playing experience and have fun playing the game-I share that vision with Mylec."
To receive more information on Mylec products please contact Mylec on their web site www.mylec.com or Kevin Johnson at (978)297-0089 ext 304, or email:kj.mylec@gmail.com
Contact
Mylec, Inc.
Kevin Johnson
978-297-0089
mylec.com

Contact