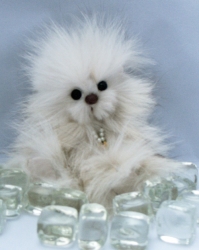 Austin, TX, October 10, 2013 --(
PR.com
)-- Beacon's Glow Collectibles, an online gift and collectibles retail store specializing in dolls, teddy bears, and collectible figurines (http://www.beaconsglow.com/), is pleased to announce that one of the owner's Minky Bears, Ice, has won a distinguished 2013 URSA Award.
The Eighth Annual 2013 URSA Awards Competition was comprised of 163 entries from 26 countries with 87 teddy bear artists competing. Bears and Buds Magazine sponsors this competition each year.
As many of you might know, URSA is the bear constellation and an acronym for the competition's criteria: Unparalleled beauty, Rarity of Vision, Style beyond compare, and Artistic merit. Votes in this year's competition came from over 103 different countries.
Brenda Mize, teddy bear artist and owner of Beacon's Glow Collectibles, creates her Minky Bears from vintage fur from mink, fox, and rabbit. She believes that recreating the vintage furs into artist teddy bears allows the spirit of the animal to live on. It is as if these poor animals have come back in the form of a loveable teddy bear.
This year's URSA Award winner, Ice, is 5-1/2 inch tall polar bear teddy made from vintage silver fox fur. This one-of-a-kind teddy is entirely hand-stitched and 5-way jointed using cotter pin-disc joints. He has black German glass eyes and hand-sculpted Polymer clay nose. His face has been carefully scissor sculpted. Ice is filled with an old-fashioned mix of wood wool excelsior and wool blend poly and just a touch of steel shot to give him just the needed weight. He has been fully lined for durability, and he has ivory ultra-suede paw pads. He wears a Swarovski crystal heart with pearl accents hanging on a black cord around his neck.
Minky Bears are available for sale both on the Beacon's Glow Collectibles website as well as on an Etsy Shop named "Minky Bears."
About Beacon's Glow -
Beacon's Glow Collectibles offers both their US and International customers many fine lines of collectibles. Predominant bear and plush animal manufacturers include: Charlie Bears; Steiff Bears, Boyd's Bears; Bearington and Minky Bears. Predominant doll manufacturers include: Madame Alexander Dolls; Helen Kish Dolls; Heidi Plusczok Dolls; Brenda's Reborn Nursery Dolls, Lorella Falconi Dolls and Adora Dolls. They also carry the very popular Jim Shore Figurines, as well as Snowbabies by Department 56.
Browse their site at (http://www.beaconsglow.com/). Collectors of all types will be pleasantly surprised at the wide variety of manufacturer's lines and products offered at Beacon's Glow Collectibles.
They also have an impressive pledge to their customers and firmly stand behind it – "All items on our site are in stock; & all orders are guaranteed to ship by 6:00 p.m. the following business day." This is certainly welcome news for collectors of all types.
Beacon's Glow Collectibles is committed to offering customers a wide variety of collectible dolls, bears, and figurines at competitive prices, as well as exceptional customer service. This company guarantees their customers total satisfaction.
All major credit cards are accepted (Visa, Mastercard, American Express, and Discover). Paypal is also accepted as a method of payment as well as personal checks and money orders. Site security is ensured with Volusion's SSL Certificate through encryption. The company also respects their customer's right to privacy, and ensures that it will never be compromised.
Layaway plans are available, and they are willing to work with customers on an individualized basis to find a plan that best suit their needs.