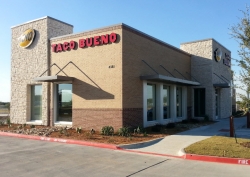 Dallas, TX, October 12, 2013 --(
PR.com
)-- In celebration of Taco Bueno's new location opening in Prosper, Texas, the restaurant will be giving away free Tex-Mex platters for a year to the first 50 customers in line on Tuesday, October 15. Located at 4385 East University, the restaurant will officially open at 9:00 AM following a ribbon-cutting ceremony with local city officials at 8:30 AM. Prosper will mark the 178th store to join Taco Bueno's Tex-Mex fleet.
"We are extremely excited to be able to call Prosper, Texas our new home," commented Chief Technology and Development Officer, Mike Roper. "Our company believes that everyone deserves Tex-Mex made fresh. Everyone deserves Bueno. We can't wait to share our made-in-house Tex-Mex with the community of Prosper and are encouraging customers to come try our food on opening day."
The first 50 customers will receive one MexiDips & Chips platter per week for 52 weeks. In addition to giving away free food, Taco Bueno will be giving away free catering to a select few winners who leave a business card, as well as handing out T-shirts, coupons, and other prizes.
The new restaurant will boast a double drive-thru in order to quickly serve customers on-the-go. It is the first new store to be built with the Modern Pueblo Design. This includes the Gabion wall system as its primary design feature that will act as a brand icon going forward.
About Taco Bueno®:
Taco Bueno is committed to creating an authentic Tex-Mex experience. Taco Bueno is passionate about providing better tasting Tex-Mex, prepared daily with fresh, hand-selected ingredients. Founded in 1967 in Abilene, Texas, Taco Bueno operates 178 restaurants in Texas, Oklahoma, Arkansas, New Mexico, Louisiana, Kansas and Missouri. The company is privately owned by Palladium Equity Partners. Learn more about Taco Bueno by visiting www.tacobueno.com or www.facebook.com/buenoheadquarters.