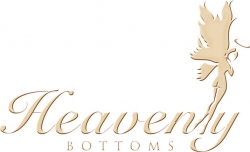 Los Angeles, CA, October 25, 2013 --(
PR.com
)-- When it comes to the beauty industry, pampering yourself is serious business. Being the savvy entrepreneurs that they are, the creators of Heavenly Bottoms® know this and are igniting the way with their cheeky new product line designed exclusively for catering to a somewhat delicate and often neglected area of the body—the derrière.
K. Smith, co-founder of the Heavenly Bottoms® brand and self-proclaimed "über-feminine chick" says "I love to feel pretty and smell pretty at all times. Like many ladies, luxurious body treats and delightful perfumes make me feel beautiful, sexy and pampered. I relish in those products, but for as long as I've enjoyed such beauty care comforts, I've never seen a product designed to pamper a woman's backside. There are certain taboos holding the industry back from directing attention to the derrière; but if we like to feel pretty and smell pretty, then why not indulge ourselves all over, including a bit of pampering to the booty?" That was the inspiration for Heavenly Bottoms®.
Smith first discovered the importance of caring for her derrière as a very young adult. From her efforts, her beau fell enamored with her pampered bottom; and in 2008, the (now married) couple created Heavenly Bottoms®. The Smith's mission is to address the void in the beauty industry and give some detailed attention to ultra feminine women everywhere.
Because of the "taboo-ish" nature of the derrière, there is an unmistakable void in an industry often known for combining hygiene and beauty products designed to delight the body as well as the senses. Heavenly Bottoms® was created to fill that void and give a sense of pleasure and confidence to ultra feminine women everywhere.
As pioneers of beauty care exclusively designed for the backside, Heavenly Bottoms® is the only place an ultra-feminine woman can find a full line of products made especially for her and her precious bottom. Devoted to the female that takes complete delight in pampering herself fully, all products are made from the most gentle, luxuriant ingredients for a truly decadent experience. Heavenly Bottoms® has been working very hard to create an elite line of products that are not only luxurious but visually pleasing and travel friendly, so ultra feminine women can pamper themselves and feel pretty and romantic wherever they go.
Their products currently include The Little Details™ Cleansing Wipettes and Derri'Heir™ Pampering Deodorants in enchanting scents like "Applebum" and "Crème Boode." The wipettes are pleasantly plush and specifically formulated to cleanse and remove all traces of bacteria from your bottom. The pampering deodorants are natural, hypoallergenic, and formulated to eliminate odor as well as provide a soothing barrier on the skin to help prevent painful friction and uncomfortable chafing—allowing users to "sit pretty."
"I would love for the beauty industry to embrace our movement, and bring more attention to maintaining the health and wellness of the derrière," Smith said. 'Cheeky' beauty essentials should be a natural, comfortable topic for all ladies to discuss; and we should be delighted to pamper ourselves from top—to bottom!"
To the delight of women everywhere, Heavenly Bottoms® has launched its debut products which are currently available on their website www.HeavenlyBottoms.com. They are extremely excited to fill the void in the beauty industry and make a comprehensive offering of 'Cheeky' Beauty Essentials™ for women "the new norm". Heavenly Bottoms® will be launching more luxurious products in the near future, including their exclusive line of Cheeky Lingerie™—knickers and intimate apparel made exclusively for her bottom.
In the meantime, their tagline, "Sit Pretty," … Pretty much says it all.