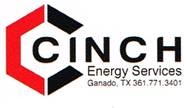 Houston, TX, October 23, 2013 --(
PR.com
)-- Cinch Energy Services, L.L.C.(Cinch Energy) announced today that it has completed $50.0 Million in oil field service work twenty two months ahead of projections and in its 19th month of operation.
Martin Kroesche, the Company's Chief Financial Officer said, "While we have seen explosive growth from day one, the company has been able to so do so in an organized and strategic manner putting our customers' needs first. This is the first step in our goal to reach $100 Million in revenue by month 60. We are currently twenty two months ahead of our projection."
Kroesche also stated, "We and our team have committed ourselves to keeping in step with the ever growing Texas Energy Market. The Company's Vice President and Chief Operating Officer, Mark Lopez deserves many accolades in the team he has built and the guidance he has provided with his 30+ years of experience in the pipeline and oil field construction business. He is the reason we are here today."
Cinch Energy specializes in pipeline construction, gathering facilities, treatment facilities, integrity work and a range of pipeline related field services.
Cinch Energy is based in Ganado, Texas with its principal fabrication and yard facility in Jackson County and peripheral operations in Karnes County, Texas.
If you would like more information, please contact Martin Kroesche at (361) 771-3401 or email at Martin.k@cinchtexas.com.