Amazing Bible Timeline Highlights Math Supports Creationism
With their finger on the pulse of biblical timeline information a company called Bible Charts and Maps brings attention to a recent announcement by the company's founder who is also a noted mathematician. The probability of the author of Genesis correctly guessing the order of creation is 1 in 479 million.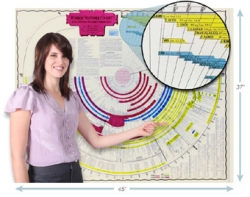 Charleston, WV, October 25, 2013 --(
PR.com
)-- Keeping apprised of biblical timeline information to keep on the cusp of new developments a company based in Duck, West Virginia named Bible Charts and Maps, which publishes the Amazing Bible Timeline, has recently underscored its founder's informative announcement. A noted mathematician herself Margaret Hunter, Owner of Bible Charts and Maps makes clear cut assertions to support creationism in one of the many informational pages on the company's website. To that end, one recent posting on a page entitled "Less Than 1 Chance in 479 Million Moses Made Up The Creation Account" has sparked particular interest.
Hunter recently spoke to the post that has garnered so much attention of late, "We're particularly interested in the twelve events stated in the Biblical account of creation. Science has actually confirmed that these events are not only correct but they are stated in the correct order. In my post on AmazingBibleTimeline.com I put forth a question. Without prior scientific knowledge, what are the chances Moses guessed the correct order of Earth's evolution or creation when he wrote Genesis?"
Sparking not only interest but a fair amount of controversy as is always the case surrounding creationism statements, Hunter looks for the simplest explanation on the site by using her ample deduction skills. Providing a mathematical formula for an analogy with similarities to the creation science announcement Hunter brings the site visitor's attention to even further proof of creation by way of Peleg's Biblical account of the splitting apart of the continents. "I ask that those with a desire to deepen their understanding of the Bible to realize that Peleg, a Biblical reference, could be our fourteenth link to understanding creation," added Hunter.
The Amazing Timeline lays out the entire chronology of man from Adam to the current day which includes both Bible and world history. The original edition was printed in 1931 and has been updated every decade since 1990. The 2013 printing adds the most important secular history dates through 2012 with additional dates for Christian church, Africa and Asian history.
For more information visit
http://amazingbibletimeline.com
. To connect on Facebook click on
https://www.facebook.com/BibleTimeline
. For more information regarding the announcement visit h
ttp://amazingbibletimeline.com/bible_questions/q24_what_are_the_chances_moses_guessed/
.
Contact
Bible Charts and Maps, LLC
Margaret Hunter
304-678-4300
biblechartsandmaps.com

Contact