Preservation-Oriented Community Prepares to Break Ground in Haymarket, VA
Villages of Piedmont at Leopold's Preserve includes more than 380 acres of protected conservation land and is envisioned to be a model for preservation-oriented land planning.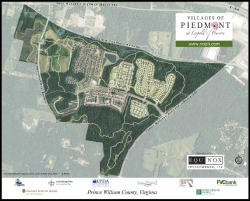 Haymarket, VA, October 25, 2013 --(
PR.com
)-- A unique community, envisioned to be a model for preservation-oriented land planning, is taking root in western Prince William County. With an impressive open space commitment of more than 380 acres,
Villages of Piedmont at Leopold's Preserve
offers a unique and thoughtful solution to progressive land use management and finding the balance between human population growth and the preservation of natural habitats.
Initially approved in May 2012, Supervisor Martin E. Nohe (R-Coles) called the development "visionary." Normally, when large tracts of open space are preserved, they are in developments with large, estate-like homes, he said. The preserved park will be on 380 acres "next door to regular, hardworking families," Nohe said. "We've never seen this kind of parkland attached to this kind of development."
Supervisor W. S. Wally Covington III (R), who represents the Brentsville district, where the project is located, said that the plan achieves "that balance we're looking for."
Located approximately 30 miles west of Washington, D.C. in northwest Prince William County, the Villages of Piedmont at Leopold's Preserve is just south of Interstate 66 at the intersection of James Madison Highway (Route 15) and Market Ridge Boulevard. The project is uniquely situated at the midsection of The Journey Through Hallowed Ground National Heritage Area and Scenic Byway, a corridor long valued by conservationists and historians, and will be the focus of the Journey's second Living Legacy Pilot Project.
Comprised of approximately 493 acres, the project is adjacent to the existing Villages of Piedmont residential community which consists of a mixture of 413 single family homes and townhomes. Villages of Piedmont at Leopold's Preserve will complete the balance of this community with the addition of 393 new homes (132 single family and 261 townhomes) in a unique cluster design with strict architectural guidelines to ensure a quality community reflecting styles and features that are in keeping with the existing homes.
Metropolitan Washington, D.C. area home builders--Stanley Martin Homes and Winchester Homes--have been selected as the builders for the 132 single family homes and 168 townhomes, respectively. Equinox, the developer for the project, says it will release a request for proposal for the remaining 93 townhome lots in the coming months.
One of the most compelling aspects of the project is the impressive open space commitment—the permanent conservation of more than 380 acres known as "Leopold's Preserve"—aptly named for the famous conservationist, Aldo Leopold, that will be preserved through a conservation easement as natural open space and open to the public for passive recreation. Within the open space there will be over 5 miles of natural surface walking trails, observation areas, wildflower meadows, and numerous interpretive signs that will showcase the environmental and historic features of the property and the surrounding area. Equinox has enlisted the help of Virginia Tech's College of Natural Resources and Environment, Conservation Management Institute, to assist with several of the sign interpretations and designs.
Additional amenities will include a community center with a 25 meter, 6 lane swimming pool and kiddie pool, 3 tot lots, a large playground, a dog park, and a 750 square foot interpretive center. The streets will be named after famous naturalists and conservationists, such as John Muir (Muir Drive), Gifford Pinchot (Pinchot Lane) and John Bartram (Bartrams Forest Lane).
The project also includes a $6.5 million dollar commitment to jump-start the design and construction of the long-planned widening of Route 15 to four lanes, south of Interstate 66.
Villages of Piedmont at Leopold's Preserve provides a unique living experience by providing access to natural areas and open space, increasing opportunities for healthy lifestyles, and protecting the existing community from inappropriate development. This community promotes a 'sense of place' and belonging by recognizing and protecting the special characteristics of the land.
A groundbreaking ceremony is planned for Wednesday, October 30th at 10:00 am at the site.
For more information, visit www.vopii.com, find us on Facebook, or call 703.327.0993 ext. 3.
About the Developer: Equinox Investments, LLC was founded in 1999 by Scott C. Plein and William M. Smith. Equinox is a Northern VA based real estate investment, development, and management company whose primary interest is in entitling well conceived communities. Equinox prides itself in understanding and listening to the needs of its community neighbors, including their sensitivity to traffic patterns, needed road improvements, environmental features, educational infrastructure, and recreational needs. Since their inception, Equinox has entitled over 1,900 residential units and created opportunities for over 500,000 sf of office space and 200,000 sf of retail space. Their entitlement success has been made possible by working closely with the communities that exist in and around their project. For more information, visit www.equinoxinvestmentsllc.com.
What is Conservation Development? Also known as "Conservation Design", Conservation Development is a controlled-growth land use development that adopts the principle for allowing limited sustainable development while protecting the area's natural environmental features in perpetuity, including preserving open space landscape and vista, protecting farmland or natural habitats for wildlife, and maintaining the character of rural communities. A conservation development is usually defined as a project that dedicates a minimum of 50 percent of the total development parcel as open space. The management and ownership of the land are often formed by the partnership between private land owners, land-use conservation organizations and local government. It is a growing trend in many parts of the country, particularly in the western United States. In the eastern U.S., conservation design has been promoted by some state and local governments as a technique to help preserve water quality.
Contact
Equinox Investments, LLC
Susan Caudle
703-327-0993 x 3
www.equinoxinvestmentsllc.com

Contact