Firm Plumber in Chandler Offers "Really Free of Charge" Estimates
Plumber in Chandler, AZ now provides free estimates with no strings attached.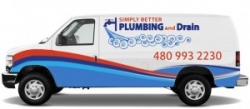 Chandler, AZ, November 06, 2013 --(
PR.com
)-- A homeowner is presently sad and apprehensive due to a plumbing breakdown that requires quick action. From the homeowner's personal experience and those of neighbors, numerous have;
1. Paid a lot for "Free estimates," simply because they refused to "cave in" to the $2,000+ work orders.
2. Have been "hustled" into paying out $1,500+ to get a water heater that some paid $500 for.
3. Still more have been ripped off by "plumbers" who had been actually "con-men and salesmen" in disguise.
Now, the house owner might be truly concerned and also slightly frightened that history is going to repeat itself. Here is good news:
There is a plumbing firm in Chandler offering "Old School" honesty and quality with no hustle.
Whenever a plumber seeks to apply the "Golden Rule" to their clientele, they discover they also are winners since they gain clients and friends for the long term. Yes, they part with any short-run big-income sales, but greedy firms always fail in the long-run. Many of the Valley area plumbers have changed their company names on a number of occasions to escape their very own failures and poor press.
Chandler location individuals may have identified a permanent pal in the plumbing field after they contact Don Paz at Simply Better Plumbing and Drain. Don has shared numerous "horror stories" of area people that fell prey to these shady schemes. Don does his very best to "mop up" after the con artists have left the scene. Don states "It is straightforward to repair their plumbing to top condition, but it is a tough job to heal lost confidence in plumbing services companies."
One suggestion after interviewing Don is this; "Why not talk to him for plumbing needs?" Avoid going down the sad street of broken plumbing and broken promises. Read more at http://www.simplybetterplumbinganddrain.com/
Don further states "There will not be a charge for an estimate, they are free in the event the home owner decides to hire us or not. Experience shows that this offer is outside the norm in the area. So customers will be treated fairly, receiving the Golden Rule. In essence, we will be totally honest about the clients' plumbing requirements and try our best to be completely trustworthy regarding the work and timely in our appointment."
Clients are surprised with Don Paz.
Simply Better Plumbing and Drain
Proprietor: Don Paz
Serving Higher Chandler and Scottsdale, AZ
Tel: 480-993-2230
Web site: http://www.simplybetterplumbinganddrain.com/
New Video http://youtu.be/u2rC_Qy6URk
Google Hangout http://youtu.be/6oEVuoxU1OI
Contact
Simply Better Plumbing and Drain
Don Paz
480-993-2230
http://www.simplybetterplumbinganddrain.com/

Contact