Towards Improved Access to Essential Medicines in West Africa: West African Health Organisation (WAHO) and Partners Consult for Increased Momentum
Conscious of the fact that national health programmes in West African region are often hampered by lack of access by the population to essential medicines, ECOWAS signed Charter came into being in April 2013 to promote public-private sector partnership that will encourage local production of antiretrovirals and other essential medicines in the ECOWAS region. WAHO is taking the lead in bringing this dream to fruition.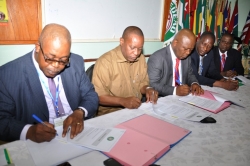 Bobo-Dioulasso, Burkina Faso, November 08, 2013 --(
PR.com
)-- From 6 to 7 October, 2013, a two-day Joint Multi-Stakeholder Consultation meeting was held here. The consultative meeting brought several partners together for the implementation of the ECOWAS Charter on public-private partnership initiative for local pharmaceutical production of priority essential medicines in the West African region.
Initiated by the West African Health Organisation (WAHO), the meeting was borne out of the observation that the sustainability of public health programmes, such as HIV Prevention and Care, elimination of malaria and tuberculosis are often hampered by lack of access to quality medicines at affordable prices.
Signed and adopted in April 2013 by ECOWAS Ministers of Health in Praia, Cape Verde, the Charter encourages public-private partnership for local production of antiretroviral drugs and other essential medicines as the nerve centre of any action that will improve the populations' access to vital medicines they need.
Declaring the multi-stakeholder meeting open, the Director –General of the West African Health Organisation, Dr. Placido Cardoso reminded the participants that "The signature of the Charter in Praia, Cape Verde at the Meeting of Ministers of Health of the ECOWAS in April, 2013 marked the departure of the train of progress towards the ultimate destination of access to medicines so vital for the people of West Africa. Posterity will not forgive us if we fail to live up to our individual and collective responsibility to respond to the legitimate aspirations of our people to be healthy."
Indicative of the importance attached to the issue of improved access to priority essential medicines is the presence at the meeting of major pharmaceutical production companies from West Africa among which were Evans Médical, May & Baker (Nigeria), Danadams, Lagray Chemicals (Ghana), SANOFI (Sénégal) and Inpharma.
Also in attendance, were representatives from the African Union, NEPAD, UNAIDS, UNIDO, ECOWAS country experts, civil society organisations, High Commission of India and WAHO staff.
Besides the ECOWAS Charter on Public-private partnership for the local production of antiretroviral drugs and other essential medicines, the discussions during the meeting touched on quality control laboratories within the region and the importance of legal provisions governing intellectual property as they relate to trade on local production of essential medicines.
Contact
West African Health Organisation
Kayode Egbeleye
+226-66236648
www.wahooas.org
Advocacy & Communication Officer,
West African Health Organisation,
Bobo-Dioulasso, Burkina Faso

Contact
Multimedia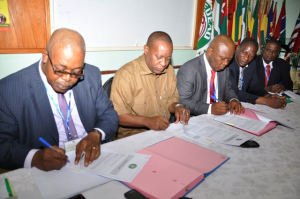 WAHO Director-General , Dr. Placido Cardoso flanked by Directors of Evans Medical (Nigeria) and Danadams (Ghana) during the signature of the contract for local production of essential medicines