Get Your Home's High-Traffic Zones Ready for Holiday Guests - Tips from Home Stager Kate Hart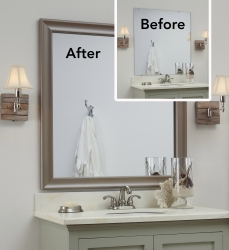 Charlotte, NC, November 14, 2013 --(
PR.com
)-- The influx of holiday guests is on the horizon. Now's the time to get your home ready for holiday hosting – and finish those home project that have been put on the back burner. Home Stager Kate Hart shares some easy, high-impact ways to get your home ready in a jingle:
- Focus on the high-traffic zones. Kitchens, bathrooms and guest rooms are in high-use when overnight guests arrive.
- With time limitations in-place, tackle only the simple, do-it-yourself home updates that will have instant impact. For easy upgrades, consider a quick coat of fresh paint, new cabinet hardware and switching out dated lighting fixtures. Tip: Add dimmer switches in bathrooms to serve as nightlights, and over dining tables to create just the right ambiance for the holiday meal.
- Adding a frame to any unframed bathroom mirrors immediately gives a finished look to the room – and will add great style to your guests' reflection. Tip:
MirrorMate
is a great resource for DIY mirror frames that install in minutes, pressing right onto the glass while the mirror stays on the wall.
- New crisp linens, down pillows and fluffy white towels give a luxurious feel to the bed and bath. Try HomeGoods for a great selection of quality, affordable linens and towels. Tip: Roll up extra towels in a basket in the guest room for easy access.
- Ensure there is space in the closet and drawers so guests can unpack. Guest rooms tend to house many of our unworn or infrequently worn clothes. Looking to make space? Tip: This is a great time of year to donate clothes and coats to charities like the Salvation Army.
- A few hotel-style touches can go a long way in guest quarters. Think little soaps, shampoos and a few books for the nightstand – anything that might make a guest's stay more comfortable. Tip: An area travel guide book is a fun, useful item for the bedside.
- Clean and de-clutter before the decorations come out!
"Now's the time to finish up those house projects," says Kate Hart. "Simply cleaning and de-cluttering before holiday decorating begins will help start the holidays off right. Your decorations can really be showcased, making for a highlight in a holiday home."
About Kate Hart
Kate Hart is an award-winning staging and design expert who resides in Philadelphia. She's been featured on HGTV, The Fine Living Channel, CNN and Everyday with Rachael Ray and awarded the Real Estate Staging Association's Staging Professional of the Year and Philadelphia Magazine's Best Home Stager 2012. Kate has helped hundreds of home owners prepare their homes for sale. Visit Kate at www.hartstaging.com.
About MirrorMate
With a MirrorMate frame, adding a frame to an unframed mirror is an easy DIY project. It takes just minutes and updates your bathroom instantly. Installation is simple: the pre-taped frame presses right onto the mirror – while it's on the wall. Frames are available in over 65 styles at www.mirrormate.com. Prices start at $99 and vary based on mirror size and frame selection.
Contact
MirrorMate
Amy Florek
617-640-8134
www.mirrormate.com

Contact