Traverse City Filmmakers Use Instagram, as Key Component in Production and Editing in Suspense-Thriller, Division
Division, Inspired by Local Legends and Paranormal Activity, will Begin Filming at Grand Traverse Commons in Early December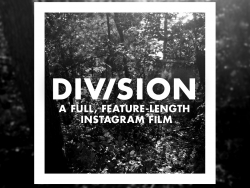 Traverse City, MI, November 18, 2013 --(
PR.com
)-- Division Writer and Director, Cat Muncey, has assembled a hand-selected crew from diverse backgrounds to work with her production company, Novum Productions, to create what hopes to be the first-ever feature length movie filtered entirely through Instagram. The movie begins as a fun examination of a couple's daily routines and transforms into a mind-bending suspense inspired by local folklore from Traverse City, MI and the nearby Old Mission Peninsula.
The story is told through multiple perspectives and is shown to the viewer as clips of Instagram video. The real truth, or at least part of it, has been recorded by the main couple and their friends. The title of the project comes from the road Division that runs parallel to the Commons, a former mental health institution, and becomes a reference to the division of sanity and insanity, reality and imagination. It also plays to the fact that modern social media is a specific representation and facade of anyone's life.
"With so much of life and how people project themselves being an illusion, who's to say what is or isn't real?" Muncey poses this question, and many others in this exploration of reality and fantasy. "As a society we have a generally agreed-upon idea of how people should act and when they don't behave in this accepted way, the consequences aren't always forgiving."
You can learn more about the project and the crew on the Division Facebook page and through the
Division Kickstarter
campaign which will run until Friday, November 29th. Muncey and her crew hope to achieve their fundraising goal to avoid technical compromise. Muncey states, "We will make this happen no matter what, but having the right equipment and the right talent are important to the integrity of the film."
Novum Productions is a storytelling collective driven to cultivating unique experiences that make people think. Their medium is film.
Contact
Novum Productions, LLC.
Cat Muncey
616-610-3497
novumproductions.com

Contact