Three Revolutionary Cancer Technologies to Crowdfund That Will Increase Survival Rates and Emotional Health of Women with Cancer
Recent Breakthroughs in Technology Have Allowed for an Innovative Approach to Increasing Survival Rates and Providing Support for Women with Cancer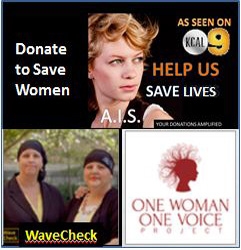 Los Angeles, CA, November 19, 2013 --(
PR.com
)-- Crowdfunding platforms have matured to welcome new types of campaigns aimed at helping women boost their survival rates. This fall, WhenYouWish.com and Indiegogo.com are inviting the public to support new technologies that will empower women to use technologies that will improve outcomes to their cancer treatment. For instance, Indiegogo.com features WaveCheck that provides rapid feedback of the efficacy of chemotherapy and accelerates the process of fine-tuning the optimal treatment. Whenyouwish.com launched the first-ever cancer drug crowdfundraising campaign, Boost Cancer Survival Rates, targeted at eliminating the propagation and killing cancer cells in women suffering from ovarian or breast cancer. Finally, One Woman One Voice Project a crowdfunding initiative promoted by Indiegogo.com addresses the need to create a support system around women in the healing process.
"One in three people will be diagnosed with cancer. In fact, all of us will be touched by the disease through a family member or a friend," states Diane Balma, Cancer Survivor and Public Policy Activist for cancer research. "Cancer tumors can be as unique as the people who developed them. Patients and physicians want to know the same thing, is the treatment working?" explains, Dr. Gregory Czarnota, PhD, MD, FRCPC, Chief, Department of Radiation Oncology at Sunnybrook Research Institute. Balma understands the purpose of reaching out to the public: "supporting cancer research is a shared responsibility and the public needs to be involved."
This invitation to bring the general public to actively support medical technology and website development is a new departure in the world of crowdfunding. WhenYouWish.com and Indiegogo.com are among just a few crowdfunding sites currently accepting health related projects and are pioneers in this field. Rewards extended to donors normally would be related to the project featured in a crowdfunding site. However, for medical technology, government regulation does not allow donors to get access to early prototypes of technology or access to the clinical trials. Therefore both platforms have welcomed the creativity of the groups behind Wave Check, Boost Cancer Survival Rates, and One Woman One Voice Project to create new forms of incentives to encourage donors. For instance WaveCheck distributes art donated by artists to the donors. Boost Cancer Survival Rates takes advantage of When You Wish third party I Love It™ rewards that include gift cards, movie tickets, and items provided by other corporations.
WaveCheck
's ultimate goals are to give people a say in their treatment plan, avoid unnecessary side effects from ineffective chemotherapy, and find the treatment that's right for each person. Crowdfunding WaveCheck will accelerate the time it will take to get this technique into clinics everywhere. This technology is the brainchild of Dr. Gregory Czarnota, PhD, MD, FRCPC, Chief, Department of Radiation Oncology, Head, Radiation Treatment Program and Director of the Cancer Research Program, at Sunnybrook Research Institute. Teaming up with Czarnota, Michael C. Kolios, PhD, Professor, Department of Physics, Ryerson University is an expert in ultrasound technology for biomedical applications. This team has partnered with these world-leading cancer centers, the MD Anderson Cancer Center (Houston, Texas, U.S.A.), the London Health Sciences Centre (London, Ontario, Canada), and the Princess Margaret Hospital (Toronto, Ontario, Canada).
Boost Cancer Survival Rates
is a project that intends to accelerate the availability of a cancer drug discovered at the University of Southern California Norris Cancer Center and commercialized by a startup, Applied Integrin Sciences that boosts the survival rates of patients with ovarian, breast & prostate cancers. This campaign is facilitated by the Alfred E. Mann Institute for Biomedical Engineering at USC and the research work out of the laboratories of Professor Frank Markland has been funded by the National Cancer Institute, the Susan G. Komen for the Cure, the National Institute for Health, and the Department of Defense of the United States of America.
One Woman One Voice Project
's vision is to erect a social networking website that provides a safe place on the Internet for women who have experienced physical and/or emotional trauma to heal through storytelling, mentoring, inspiring, and through the formation of lifelong friendships. The website will provide filters to match women to other women with similar interests, and to match mentors and professionals with women who desire support. This project is spearheaded by Stephanie Payne who is a Board Certified Coach dedicated to helping women find their worth and strength by learning to love the self.
Contact
Alfred Mann Institute at the University of Southern California
Nathalie Gosset
213-821-1339
http://ami.usc.edu/

Contact