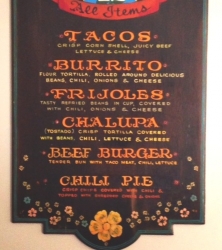 Dallas, TX, December 11, 2013 --(
PR.com
)-- Throwback Thursdays are in full-swing as Taco Bueno restaurants are taking their customers on a trip down memory lane with a nostalgic menu item offered only on Thursdays. The first item on the throwback menu is the Chili Pie, made with original Fritos® corn chips, 100% fresh ground beef, real melted cheddar cheese, a unique chili sauce and topped with sour cream, which will be offered for the next two months. Due to the overwhelming excitement for the nostalgic Taco Bueno menu, the company will be hosting an upcoming vote on Facebook so that customers can pick the next throwback menu choice for February.
The Taco Bueno menu has seen a few changes since it was founded in 1967 in Abilene, Texas. Customers still remember the treats they ordered as a child and frequently ask us to bring back a few menu items such as the Chili Pie, the Taco Burger, the Taco Rounds, and the Chili Cheese Wrap. Due to the excitement around old menu items, the company has decided to offer one 'Throwback' menu item only on Thursdays, while supplies last at participating locations.
The Chili Pie will be the premier throwback item but customers will get to vote for the second one, scheduled to make its reappearance in February. Voting will begin in early January through Taco Bueno's Facebook page. Fans are encouraged to rally their friends to vote for their favorite throwback menu item so that they can make their childhood memories a reality again. The Throwback Thursdays promotion at Taco Bueno will largely be a social media-driven promotion. Available at participating restaurants only.
About Taco Bueno Restaurants, L.P.:
Taco Bueno is committed to creating an authentic Tex-Mex experience. Taco Bueno is passionate about providing better tasting Tex-Mex, prepared daily with fresh, hand-selected ingredients. Founded in 1967 in Abilene, Texas, Taco Bueno operates 175 restaurants in Texas, Oklahoma, Arkansas, New Mexico, Louisiana, Kansas and Missouri. The company is privately owned by Palladium Equity Partners. Learn more about Taco Bueno by visiting www.tacobueno.com or www.facebook.com/buenoheadquarters.