The Kate White Band Release Their Holiday Album, "A Christmas to Remember"
The Kate White Band delivers their highly anticipated album, "A Christmas to Remember."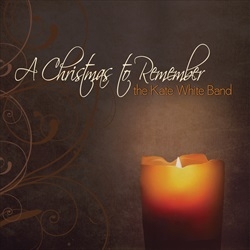 Portland, OR, December 11, 2013 --(
PR.com
)-- "A Christmas To Remember" is a collection of traditional Christmas songs and instrumentals arranged and performed by Portland / Vancouver-based Americana group, The Kate White Band (www.katewhitemusic.com). The album has 7 tracks that reflect the group's unique acoustic interpretation of the traditional classics. "We wanted to create a project that would be a take-away of our intimate holiday concert experience," said White, band leader and recording artist with 2 previous solo releases. "The album does just that with acoustic flavors that reflect Celtic, bluegrass and classical roots. It gives the listener a touch of the Renaissance flair." The album also contains two original songs, "Holy One" and "Winter's Thaw," in order to create "a festive and winter reflection" according to White.
The project features White on vocals, violin / fiddle and keys, Glenn Farley on backing vocals and guitar, Dale Vandeberg on bass, Robert Switzer on percussion and drums, and multi-instrumentalist Scott Minter on mandolin, mandola and penny whistle. "Adding the medley of carols at the end with guest singer Paul Loomis, who also happens to be my dad, was a timeless way to close out the album," said White. "We used to carol colleagues and shut-ins as a family growing up. People are always touched and reminded of their own holiday traditions."
The Kate White Band has been together since 2002. The group has toured extensively in the Northwest as well as in Alaska, Idaho, and California. They have become a mainstay among the burgeoning folk and acoustic music scene that has infiltrated the Northwest. "The network of artists in our area is very welcoming," said White. "We feel proud to be a part of a community where artistic expression and a merging of musical styles is encouraged. The essence of the album reflects both our roots as well as our musical journey as a band."
Kate's album was produced by Dave Beatty of BentBeat Productions. Dave and Kate have teamed up on several projects, dating back to the early 2000's. "The opportunity for BentBeat to partner (with Kate) on this project was too good to pass up," said Beatty. "Kate and her team are extremely talented, and we are happy to be a part of this beautiful Christmas project."
The CD "A Christmas to Remember" is available for purchase on Amazon.com or can be downloaded from iTunes, Spotify, and all major music sites. A sold out CD Release concert was held at Vancouver, Washington's Slocum House hosted by East Fork Cellars in November and the Kate White Band is currently out on their "A Christmas To Remember" Tour, playing events in Medford, Klamath Falls and Lakeview, Oregon. Says Kate, "This Christmas season we hope to give back to the communities we visit. In addition to our normal events, we will also be playing in a prison and domestic violence shelter for women and children." For those in Grant's Pass and Medford, look for their December 13th Concert to be held at Trail Christian Fellowship (www.trail.org) at 6:30 p.m. They will be finishing out their Southern Oregon Tour on Sunday, December 15th at 10 a.m. at Eagle Point Community Bible Church (www.epcbc.org) where they will lead worship and share a selection of their Christmas favorites.
About BentBeat Productions: BentBeat Productions, the recording and publishing division of All Requests Live, Inc., is based in Portland, Oregon. BBP's focus is on partnering with musicians to produce and record high quality, radio-friendly music. Working with social media and through mainstream channels of distribution, BBP's portfolio is available on Amazon.com or can be downloaded from iTunes, Spotify, and all major music sites. Please join in supporting musicians.
Contact
BentBeat Productions
Dave Beatty
503.489.8275
www.bentbeat.com

Contact