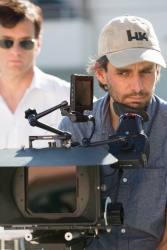 Los Angeles, CA, December 12, 2013 --(
PR.com
)-- Backbone Trail Arts is pleased to announce that Michael Shermer has joined the cast of Tarot: A Documentary Love Story. Mr. Shermer, the Founding Publisher of Skeptic Magazine and Director of the Skeptics Society, who has appeared on The Colbert Report and Larry King Live, will play the role of a skeptic tarot reader. The film's leads include Vincent Maeder, who also directs, and Navah Raphael, who also produces, as two documentarians seeking answers to the mysteries of love. Ms. Raphael and Mr. Maeder are the writers on the project.
Additional cast includes Matthew Jaeger, Eric Bunton and Andy Goldenberg, who have appeared in various film and television projects. Also, David Castro and Time Winters, veterans of film and television, appear as an eccentric acting coach and an off-beat acting agent in this entertaining view of love and possible futures.
Tarot: A Documentary Love Story journeys into various Los Angeles Tarot shops, comparing and contrasting readings between psychics. The readings fuel the love story between the two leading documentarians played by Ms. Raphael and Mr. Maeder. The film combines three film genres including live-action, documentary and web based filmmaking.
Backbone Trail Arts is an independent film production company founded in 2009 by Mr. Maeder and Ms. Raphael who are actors and producers. The company's mission is to share stories of human truth. Backbone Trail Arts has produced five films including the award-winning film Sugarwheels starring Ernie Hudson, which debuted in 2011. Tarot is Backbone Trail Arts first feature film. This project is in principle photography and is scheduled for release in 2014.