60 Year Old Renowned Fitness Expert & Expedia.com Co-Creator Launch Weight Loss Program
60 Year old health and fitness phenom, Warren Honeycutt, and one of Expedia.com's original creators, Soraya Bittencourt, launch GetHoneyCutt.com - a free, personalized weight loss program.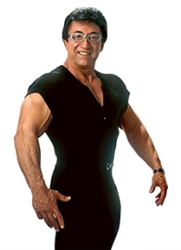 New York, NY, December 20, 2013 --(
PR.com
)-- At 60 years of age, 225 lbs. with only 6-7% body fat, no chronic health conditions and a resting blood pressure of 115/75, Warren Honeycutt is a health and fitness phenomenon. As original creator of the travel website, Expedia.com, and current CEO of Nutrihand, Inc., Soraya Bittencourt is a corporate powerhouse.
Together, Warren Honeycutt and Soraya Bittencourt have developed a personalized, easy-to-use weight loss and fitness program called "Get Honeycutt." Get Honeycutt is free, and anyone can sign up and get started at
GetHoneycutt.com
. "We've created an effective way for people to actually make a lifestyle change," states Get Honeycutt co-founder and Nutrihand CEO, Soraya Bittencourt. "The program offers a personalized approach, giving members the freedom of choice."
Get Honeycutt supports each person's unique weight loss and fitness goals on three fronts:
Personalized Nutritional Planning & Menus (created by Registered Dietitians) – > Personalized Fitness Videos Selected Just For You – > Continuous Motivational Support By the Get Honeycutt Team
"Get Honeycutt is free, and anyone can use it to lose weight and get in shape to look better, feel better and live better," states Warren Honeycutt.
In addition to a large library of targeted workout videos and the largest database of food choices on the Internet, complete with full nutritional and caloric breakdowns, GetHoneycutt members can track their daily nutritional and caloric information any way they choose. "A number of research studies published in the American Journal of Preventive Medicine shows that keeping a 'food diary' may double your weight loss efforts. We have proven that when you track what you eat, you do lose twice as much weight. When you couple tracking with a balanced meal plan, the user can eat foods they like in the correct portions, this becomes the 'Holy Grail' for weight loss," continues Warren Honeycutt.
Continues Soraya Bittencourt, "We give our members freedom to lose weight at their own pace, eating what they like and tracking it anyway they want."
Members of Get Honeycutt can track their food on the road via their cell phones. They can search, they can write, and they can call-in and get their foods that are inside their personal journal. Get Honeycutt is always with you.
"We take care of you," concludes Soraya Bittencourt. "All the tools and guidance you need are accessible using any device, and it's available wherever you are. We give you the personalized menu plan; we give you the fitness plan. Nowhere else can you get such a customizable plan online, and at no cost."
About Warren Honeycutt
At sixty years old, Warren Honeycutt boasts a level of health, vitality and fitness that eludes most thirty year olds. Warren currently retains a level of biological fitness that can still pass the fitness requirements to being admitted into the United States Army Green Berets. Warren Honeycutt is the founder and co-creator of GetHoneycutt, a personalized, weight loss, fitness, food tracking and motivational system for weight loss that is free and easy for anyone to use. Warren Honeycutt is America's Only Masters Heavyweight to reach the National Physique Committee's (NPC) National Finals for 5 consecutive years (2003-2007).
- In July 2013, Warren received the unprecedented distinction of becoming a 6 Time Nationals Finalist (Heavyweight) by placing as 1st runner up to IFBB (International Federation of Bodybuilders) Pro Card/overall winner.
- Warren Honeycutt won the Masters Mr. Tennessee twice and the Southern Classic.
- In total, Warren Honeycutt has either won or placed in over 20 shows on a state, regional and national level within the last ten years.
- Warren Honeycutt was promoted to Black Belt by Bill "Superfoot" Wallace, PKA's Undefeated Middleweight Champion of the World. Warren Honeycutt has the distinction of being the second person in the world to receive this honor.
About Soraya Bittencourt
Former Executive at Microsoft and Time Warner, Soraya has more than 25 years of leadership in the software field. She was the original creator of Microsoft Expedia and launched the first telecommunications satellite in Latin America. Soraya Bittencourt is now CEO of Nutrihand, Inc., one of the foremost wellness suppliers in North America with many Fortune 500 clients, where Warren Honeycutt sits on the advisory board. Visit her personal site at:
sorayabittencourt.com
.
Contact
Get Honeycutt, Inc.
Allison Kugel
212-537-9236
www.gethoneycutt.com
www.fullscalemedia.com

Contact