Stephanie Manos Sales Features Super Sexy at LA Mart at the California Market Center January 13-17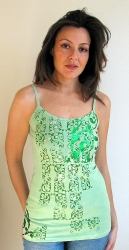 New York, NY, January 10, 2006 --(
PR.com
)-- It's market week in Los Angeles and fashion buyers from around the country, and around the globe, who have waited to see which styles will stand out the most towards the end of the buying season will flock to the LA Market Center, January 13th through the 17th to do their last minute purchasing for Spring and Summer 2006. Super Sexy will be featured in the Stephanie Manos Sales showroom for buyers to preview live.
Spring and summer 2006 is just around the corner. Soon shops will be filling up their windows with the hottest spring trends. Stephanie Manos Sales, located at 110 e. 9th street, Suite C509 in Los Angeles, California will have Super Sexy's Spring line on display. The Spring 2006 line will have fun lively hues of mouth watering pinks, greens, blues, sherberts and charcoal in their new screen printed couture custom line.
"My pallette consists of bright happy colors in muted tones. I have added foils, flock and continue to embellish with Swarovski crystals," states Anna Pereira, who artistically creates the line by hand and then recreates the designs graphically to be screen printed. 'It's the perfect blend of fun, sexy rock 'n roll and gothic influences combined with abstract art set off with metallics, the warmth of flocking and just enough bling."
Super Sexy
Couture Custom shirts are now priced more moderately. Similar designs that retailed for over $150.00 hand painted, are now available printed for around $65-75.
The Super Sexy line is manufactured and printed in the USA. Inks and other products used to finish the look are also made in the USA (with the exception of Swarovski crystals, of course). You can feel proud in a Super Sexy Tee knowing you're supporting the US labor force!
The new spring summer 2006 line contains a fitted spaghetti strap tunic, fitted crew neck t shirt, cotton spandex boy beater and a new sexy wide neck cotton long sleeve, accentuating the collar bone! Each shirt is individually dyed, adding to the uniquness of every garment having it's own j'nai se qua. The designs are full body prints; front, side, sleeves and backs of garments are printed and embellished. Premium inks are used to set the design into the fabric, allowing the design to stretch and have a soft feel.
"Very nice ... I really like them!" states Super Sexy's West Coast Sales Rep, Stephanie Manos.
Get Super Sexy in Spring and Summer 2006!
Retail buyers can contact Stephanie Manos for more information at 213-623-8272 or visit the showroom during market week at 110 e. 9th St., Suite C506, Los Angeles, CA 90079.
###
Contact
Allison Dawn Public Relations
Allison Kugel
516-942-0264
www.AllisonDawnPR.com
www.MySuperSexy.com

Contact