TEMP-AIR, Inc. Launches New Line of Portable Air Conditioners
Temp-Cool® Portable Cooling Systems Coming Spring 2014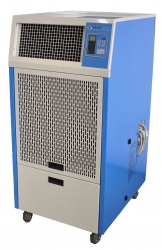 Burnsville, MN, January 23, 2014 --(
PR.com
)-- America's leading provider of temporary, portable heating, cooling, dehumidifying, and air filtration rental services TEMP-AIR, Inc. will be expanding its offerings by launching TEMP-COOL® Portable Cooling Systems in spring 2014. This brand new portable, industrial air conditioner line will feature 1-6 ton air-cooled, water-cooled, and heat pump varieties. TEMP-AIR's portable air conditioners will provide a reliable cooling solution for tent events, data centers, during permanent air conditioning system failure, and anywhere else temporary cooling is needed.
The new TEMP-COOL® line offers impressive features highly beneficial to its renters and purchasers. TEMP-COOL® cools quietly at office-acceptable sound levels without significantly adding to background noise as well as fits smoothly through a standard 36-inch wide door found in most commercial settings. The unit's LED programmable digital display is easy to read and makes temperature adjustments as simple as possible. All units are constructed of powder-coated steel thus are designed to withstand rugged environments. These mobile air conditioners are manufactured at the TEMP-AIR corporate facility located in Burnsville, MN and all TEMP-COOL® purchases include a 3-year warranty as TEMP-AIR prides itself in making high quality, lasting equipment (see registration card for details).
With the addition of two new branch offices in fall 2013, one in Sacramento, CA the other in Orlando, FL, purchasers can conveniently receive their cooling equipment faster than ever when they need it most.
To find out more about the new TEMP-COOL® Portable Cooling Systems product line, please visit
www.Temp-Cool.com
or email Amanda Rahn at marketing@temp-air.com.
Contact
TEMP-AIR, Inc.
Amanda Rahn
800-836-7432
http://temp-cool.com

Contact