First Fully Dedicated Book to the Field Based Medical Science Liaison (MSL) Role Released
The first book solely dedicated to the field based Medical Science Liaison (MSL) is now available. Title of the book is: The Medical Science Liaison: An A to Z Guide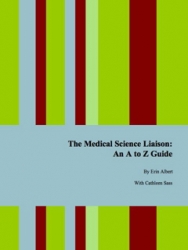 Indianapolis, IN, September 27, 2007 --(
PR.com
)-- The field based Medical Science Liaison (MSL) is a relatively enigmatic, growing, and highly coveted position within the pharmaceutical, medical device, biotechnology, and managed care industries. However, some of the mystery is solved in a newly released publication: The Medical Science Liaison: An A to Z Guide by author and CEO of Pharm, LLC, Dr. Erin Albert.
This first ever book solely dedicated to the role of the MSL contains data from several industry wide MSL job satisfaction surveys, along with over 20 national and international professionals currently working in and around the MSL function.
"The MSL role has been some of the most interesting work of my life sciences career which blended scientific acumen, innovation, business development, and research opportunities all in one role," according to Albert. "My purpose in writing this book along with my former colleague, Dr. Cathleen Sass, was to provide an avenue for other life science professionals (pharmacists, physicians, PhDs, and nurses) to learn about this role and explore it as a potential career opportunity. Also, this book includes information relevant to the current MSL on how to function more efficiently within the role, and consider other roles to move into from the MSL position."
Publisher of the guide, Indiana-based AuthorHouse, currently has the book available for purchase online at their company website: http://www.authorhouse.com/BookStore/ItemDetail~bookid~47774.aspx. The book will also be available to traditional booksellers in 30-45 days.
About Pharm, LLC: Pharm, LLC is one of the leading Medical Science Liaison strategy and consulting firms in the country based in the Indianapolis, IN metro area. For more information on the medical science liaison, logon to www.pharmllc.com or contact (317) 722.1671.
###
Contact
Pharm, LLC
Erin Albert, MBA, PharmD - CEO
317.722.1671
www.pharmllc.com
info@msljobsatisfaction.com

Contact