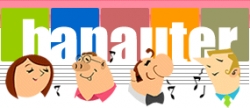 Tokyo, Japan, September 27, 2007 --(
PR.com
)-- WakuWaku Open Lab.("WOL") has launched Hanauter.com (http://www.hanauter.com), a humming based internet social community site which enables users to find and identify names of songs.
The service allows the community members to easily record humming, make it open to other members, and ask for names of the songs. Hanauter.com is a unique music community where members' communications take place not based on favorite music category or musician, but based on members' curiosity to listen to other members' humming and guess what it is. Adapting Skype communication system and Nucleus CMS blog service, Hanauter.com allows community members record humming quickly and communicate each other easily.
WOL's skill to combine blog and Skype enables internet users to create and enjoy an internet based sound database platform. WOL is currently developing several other derivative services that are expected to be released in the next few months.
About WakuWaku Open Lab.
WakuWaku Open Lab.("WOL") is the first Japanese crowdsourcing community with over 230 members in Japan. Founded in August 2006, WOL has organized monthly brain storming session and quarterly business and service development session. WOL mainly focuses on internet services area. For more information, please visit our web site (http://www.wakulab.com) or send an e-mail to hanauter@wakulab.com.
###