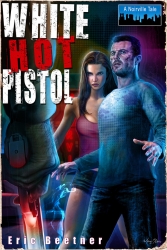 Los Angeles, CA, February 04, 2014 --(
PR.com
)-- Publishing Company Stark Raving Group is pleased to announce that Eric Beetner, author of "The Devil Doesn't Want Me," "Dig Two Graves," "Stripper Pole At The End Of The World" and the story collection, "A Bouquet Of Bullets" has released his new crime fiction novella "White Hot Pistol" through Stark Raving Group. The novella is currently available through Stark Raving Group's Bookxy.com site.
Inspired by the late pulp writer Mickey Spillane's work including the Mike Hammer series, Eric Beetner is co-author (with JB Kohl) of the novels "One Too Many Blows To The Head" and "Borrowed Trouble." He has also written two novellas in the popular Fightcard series, "Split Decision" and "A Mouth Full Of Blood." Beetner's award-winning stories have appeared in "Pulp Ink," "Pulp Ink 2," "D*cked," "Discount Noir," "Grimm Tales," and "Off The Record." He was voted 2012 Most Criminally Underrated Author by the Stalker Awards.
In "White Hot Pistol," Beetner weaves a tale of intrigue based in fictional Noirville:
"Nash never thought he'd return to Noirville, his dead beat hometown. But he returns to help his stepsister, Jacy, escape her abusive stepfather, Noirville's tyrannical sheriff. When their escape is cut short by the discovery of a dead body and a case of cash, Nash and Jacy become entangled in a deadly war between the regional drug lord and Jacy's evil stepfather. They must set the record straight and take justice in to their own hands if they ever hope to escape Noirville alive."
The release of White Hot Pistol comes on the heels of best-selling author Gary Phillips' The Anti-Gravity Steal, which was released by Stark Raving Group earlier this year. All Stark Raving Group novellas include artwork by some of the worlds most sought after illustrators. "White Hot Pistol" features artwork by renowned illustrator Marc Sasso.
Stark Raving Group specializes in crime fiction, hardboiled, mystery and pulp novellas, available through its proprietary platform Bookxy.com. Bookxy novellas are available for just $2.99, and can be read via computer, Smartphone, tablet, or Kindle.
About Stark Raving Group:
Stark Raving Group is a publishing group with an emphasis in eBooks. As creator of the Bookxy sales and distribution platform, Stark Raving Group brings novellas by renowned writers to market for readers. With a focus on taut, terse, plot-driven stories of roughly 70-120 pages, Stark Raving Group publishes crime, mystery, action-adventure and thriller, through the Bookxy platform. Its unique subscription service provides readers with additional savings, through one, two, and three year subscriptions. For more information visit www.bookxy.com